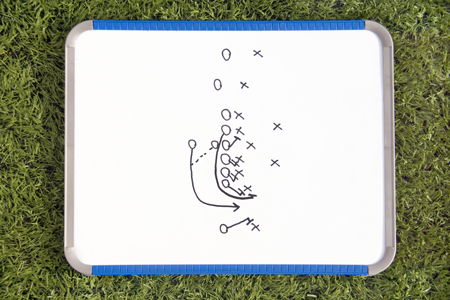 Take a close look at those NFL coaches on a Sunday afternoon.
See that clipboard they are carrying? Ever wonder what purpose it serves - beyond something to slam to the ground in frustration when their quarterback gets sacked?
The clipboard holds The Game Plan - a blueprint for victory. Carefully designed by team stakeholders (coaches, scouts, players), The Game Plan contains offensive plays and defensive alignments that - if executed effectively - secure victory.
It's shocking how many businesses don't have a Game Plan. More than 90 percent of failed businesses either did not have a Strategic Plan or had a poorly designed one, according to Forbes.com. It's logical to assume the Cleveland Browns belong in that category.
So what makes a Strategic Plan successful (like the one Peyton Manning used in the most recent Super Bowl)? When looking at the game film, there are five common elements:
A Focus on the Core Mission.
The planning process starts by determining: What do we need to do? Too many businesses fail because the owners (and employees) did what they wanted to do, instead of what they needed to do in order to succeed.
Stakeholder engagement.
Strategic Plans must have a discovery process. Discussions with employees, partners, customers, potential customers help develop and sharpen goals and action items. Top-down Strategic Plans get sacked every time.
Feasibility research.
Anyone can sit in a room and write a plan. Well-meaning ideas always sound doable in a meeting. Every goal and action item requires a thorough scouting report that answers the question: "What does it really take to make this happen?"
Investment in resources.
If a goal is listed, then it is a priority. And, if it is a priority, there must be a commitment of dollars and time. If a Strategic Plan contains an unfunded mandate, send it to the sideline.
Accountability.
Every deliverable in a Strategic Plan should be assigned a person responsible for making it happen (and when). The team captain marshals the measurable outcome, and is graded accordingly.
Finally, one other extra point.
Strategic Plans also should be adaptable - especially if market forces change or opportunities present themselves.
If the running back gets stuffed for a loss every time he runs to the right side, change the Game Plan and run him to the left.
Jeff Owen is proprietor of J Owen Media, which provides digital content and inbound marketing services for small businesses and nonprofit organizations.
Bright Ideas for Business is an information sharing program of the following community partners:
Johnson County Public Library
Johnson County Development Corporation
Franklin Chamber of Commerce
Greater Greenwood Chamber
Discover Downtown Franklin
City of Franklin
Visit the Bright Ideas for Business section on PageAfterPage.org.

AtoZdatabases
Find a job, business, person or create mailing lists & sales leads. AtoZdatabases is an essential tool for your marketing campaign, helping you reach new movers and homeowners, as well as consumers by location, income, home value and interest.
Access
Business Source Complete
Contains full text from the world's top business journals and is particularly strong in both management and marketing. Provided by INSPIRE.
Access
EBSCO Management Collection
Provides access to news and articles on topics in business, banking, law, finance, management, advertising, human resources and more. Provided by INSPIRE.
Access
International Directory of Company Histories
Provides histories of companies that are a leading influence in a particular industry or geographic location.
Access
Regional Business News
Provides comprehensive full text for regional U.S. business publications covering business, politics, and economics. Provided by INSPIRE.
Access
Small Business Reference Center
This database offers exclusive full text for many top consumer small business reference books, as well as the necessary tools and instructions to address a wide-range of small business topics. In addition, it provides business videos, a help and advice section, and information on how to create business plans. Provided by INSPIRE.
Access
Value Line
This is your gateway to a powerful investment resource. Value Line provides access to a vault of investment research, approximately 3,500 stocks, data, expert analysis, and unbiased commentary with a time-tested and performance-proven Ranking System. It includes the The Value Line Investment Survey®— Small & Mid-Cap. Please be aware that there is a limit of four (4) simultaneous users.
Access