Adult Spelling Bee
Where are Johnson County spellers? We want you to join our annual Adult Spelling Bee! The 11th Annual Adult Spelling Bee will be on Sept. 11, 2017.
Who: Johnson County Spellers
What: Adult Learning Center's Annual Adult Spelling Bee
When: Monday, Sept. 11, 2017 Check-In: 6-6:20 p.m. Competition Begins: 6:30 p.m.
Where: Franklin College - Napolitan Student Center, Branigin Room (Directions and maps are available on the Franklin College website)
Why: To raise awareness of adult illiteracy
Want to get an idea of what the competition is like? Take a look at these sample words our spellers have spelled in our past spelling bees.
You don't have to be on a team to attend--audience members are welcome!
Harder Words

Appoggiatura

Daguerreotype

Escutcheon

Horripilation

Nihilism

Testatrix

Troglodyte

Verisimilitude

Xenophobe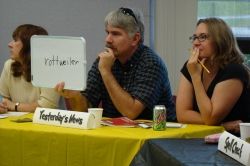 Easier Words
Bough

Cursor

Dictionary

Eerie

Illiteracy

Renown

Scene

Stint

Transcend

Tricycle

Yolk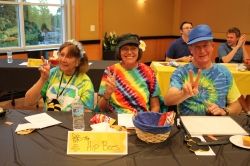 We've also had some creative team names in the past couple of years:
Bizzy Bees

Eye Spellers

Killer Bees

Masonic Phonics

"M"oney Bees

Our Word Against Yours

Reading Between the Wines

Spell Check

Stellar Spellers

The Grammar Police

The Hip Bees

The Queen Bees

To Infinitive and Beyond

What the Spell

Word Warriors

Wurld Champeon Spellars