Adult Spelling Bee
Where are all the Johnson County spellers? We want you to join our annual Adult Spelling Bee! We are planning a great night filled with spelling, costumes, and fun. Food and drinks will be available for purchase.

Unfortunately, the Spelling Bee will not be held in 2020 due to the COVID-19 situation.
Who: Johnson County Spellers

What: Adult Learning Center's Annual Adult Spelling Bee

When:
Where:

Why: To raise awareness of adult illiteracy
You don't have to be on a team to attend--Audience Members are welcome!
Want to get an idea of what the competition is like? Take a look at these sample words our spellers have spelled in our past spelling bees. Rules for the competition are listed below.

Harder Words

Appoggiatura

Daguerreotype

Escutcheon

Horripilation

Nihilism

Testatrix

Troglodyte

Verisimilitude

Xenophobe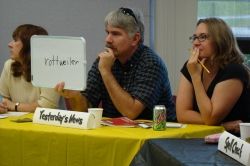 Easier Words
Bough

Cursor

Dictionary

Eerie

Illiteracy

Renown

Scene

Stint

Transcend

Tricycle

Yolk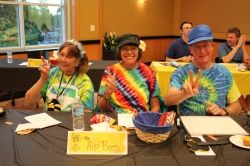 We've also had some creative team names in the past couple of years:
Bizzy Bees

Eye Spellers

Killer Bees

Masonic Phonics

"M"oney Bees

Our Word Against Yours

Reading Between the Wines

Spell Check

Stellar Spellers

The Grammar Police

The Hip Bees

The Queen Bees

To Infinitive and Beyond

What the Spell

Word Warriors

Wurld Champeon Spellars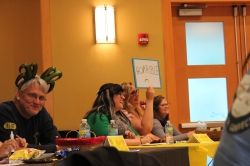 Rules and Procedures
1. Each team will consist of three members, ages 18+. All teams should have a designated writer who will write their response on a dry erase board.
2. The pronouncer will pronounce the word, give the definition, part of speech, use it in a sentence and then repeat the word one additional time.
3. Team members will have 10 seconds to collaborate on the spelling of the word and write on their dry erase board. Any team that does not hold up their board when the timekeeper calls time will not receive points for that round. If the word is illegible, the word will be considered misspelled.
4. Judges will then announce whether the word has been spelled correctly or incorrectly for each team.
5. Each word is assigned a point value based on the difficulty of the word. The team with the most points at the end of the competition is declared the winner.
6. Half-way through the competition there will be a brief intermission. At that time, points for each team will be announced.
7. These procedures and official rules will govern the Adult Spelling Bee. Any disputes will be resolved by the judges.