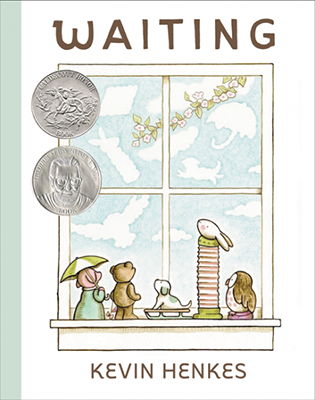 Every January, the American Library Association announces its awards for the best children's literature of the previous year. These prestigious awards include the Caldecott Medal, presented to the most distinguished picture book, and the Newbery Medal, for the most distinguished contribution to children's literature.
On Wednesday, Jan. 6, the Children's Librarians met for JCPL's third annual Mock Caldecott. The books were selected from a shortlist of 10 titles. Drum roll please… here are their favorites!
JCPL Mock Caldecott Winner
"Waiting" by Kevin Henkes
JCPL Mock Caldecott Honors
"The Moon is Going to Addy's House" by Ida Pearle

"Wolfie the Bunny" by Ame Dyckman, illustrated by Zachariah OHora
"Sonya's Chickens" by Phoebe Wahl
Check out books by recent Caldecott Medal winners.
On Monday the American Library Association announced the Youth Media Awards for 2016.

2016 Caldecott Medal Winner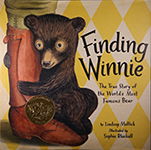 "Finding Winnie: The True Story of the World's Most Famous Bear" by Lindsay Mattick. Illustrated by Sophie Blackall.
"Finding Winnie" is an incredible account of the friendship and love shared between a soldier and the real bear who inspired Winnie-the-Pooh. Blackall beautifully interprets this multidimensional family story through her distinctive Chinese ink and watercolor art, capturing intimate and historical details perfect for a child's eye.
2016 Caldecott Honor Books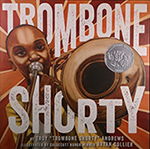 "Trombone Shorty" by Troy Andrews and pictures by Bryan Collier
In this autobiography, Trombone Shorty reminisces about his early life in the jazz music scene of his beloved hometown of New Orleans. Through Collier's paintings and collage illustrations, the story's authentic, heartfelt tone is masterfully realized.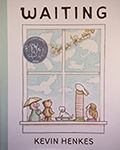 "Waiting" illustrated and written by Kevin Henkes
Waiting delivers an intimate story of five figurines, each anticipating the wonder of everyday moments. Using rich brown lines and a soft pastel palette, Henkes invites young readers to slow down and explore a range of emotions in a world on a windowsill.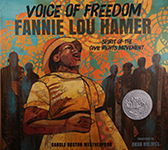 "Voice of Freedom: Fannie Lou Hamer, Spirit of the Civil Rights Movement" written by Carole Boston Weatherford and illustrated by Ekua Holmes
In this biography in verse, Ekua Holmes' illustrations provide children with an intensely visual encounter with Civil Rights icon Fannie Lou Hamer. The repetition of colors and motifs within the richly layered collage create complex images that capture Hamer's power and bravery.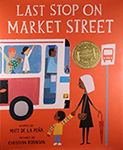 "Last Stop on Market Street" written by Matt de la Peña and illustrated by Christian Robinson
Readers are transported, along with a young boy and his grandmother, on a journey through the city. Robinson's illustrations, a colorful mix of acrylic paint and collage, feel both vintage and fresh. The diversity, vibrancy, and beauty of the urban setting are celebrated as CJ and Nana share meaningful moments together.
2016 Newbery Medal Winner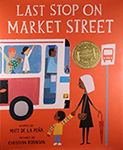 "Last Stop on Market Street" written by Matt de la Peña and illustrated by Christian Robinson.
CJ's journey with his Nana is not just a simple bus ride; it is a multisensory experience through which he discovers that beautiful music, nature and people surround him. CJ's questions are familiar, and Nana answers him with gentle wisdom. Right up until their arrival at the last stop on Market Street, Nana guides CJ to become "a better witness for what's beautiful."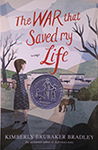 "The War that Saved my Life" by Kimberly Brubaker Bradley
Bradley's powerful plot, remarkably drawn characters and sparse language are outstanding components of this novel about courage, community and conviction.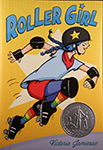 "Roller Girl" written and illustrated by Victoria Jamieson.
Astrid falls in love with roller derby and learns how to be tougher, stronger and fearless. Jamieson perfectly captures the highs and lows of growing up in this dynamic graphic novel.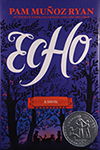 "Echo" by Pam Muñoz Ryan, four stories, one harmonica.
This original fairytale intertwines with historical fiction to explore music and its power to save, heal and set free.

"Bone Gap" by Laura Ruby
Told from alternating viewpoints, Bone Gap perfectly melds elements of fairy tales, myths, gothic romance, and magic realism into the story of Finn, who lives in a town with gaps in the very fabric of time and place.
2016 Printz Award Honor Books

"The Ghosts of Heaven" by Marcus Sedgwick
Sedgwick connects four seemingly disparate stories, each of which feature a character haunted by the ever-present shape of a spiral. Spanning time, space and genre, each story raises powerful questions about human nature.
"Out of Darkness" by Ashley Hope Pérez
In 1937 East Texas, Mexican-American Naomi and African-American Wash begin a bittersweet romance. Perez's beautifully crafted novel is a moving portrayal of both powerful love and a period marked by oppressive, destructive racism.
Other awards include the Coretta Scott King and Pura Belpré awards, given to outstanding African-American and Latino writers and illustrators. Learn about all of ALA's Youth Media Awards here.