Antiques Appraisal Event
Friends of Johnson County
Public Library Annual Meeting
The Friends of JCPL are hosting an antiques and collectibles appraisal fund-raising event featuring author and antiques expert Mark F. Moran.


Friends of JCPL Annual Meeting
Tuesday, Oct. 10
4:30 p.m. - 8:00 p.m.
White River Branch
Appraisals are open to JCPL card holders for $10 per item. Registration and payment are required for patrons bringing an item to be appraised. Register in person at any Branch or at the Library Services Center.

Registration is on a first come basis and the $10 fee (payable by cash or check) is due at the time of registration. Please make checks out to Friends of Johnson County Public Library.
Registration for appraisal of items is limited to 40 items total, one per person.
14 slots from 4:30 p.m. -5:30 p.m.

14 slots from 5:45 p.m. -6:45 p.m.

12 slots from 7:00 p.m. -8:00 p.m.
Registration remains open until all 40 slots are filled.

Excluded items:

All weapons, including swords and knives (though folding knives with advertising are accepted)

Traps (like leg-hold)

Nazi memorabilia

Coins and paper money

Fine jewelry, including precious gems

Beanie Babies

General admission for viewing is at no cost and is open to the public. The public is encouraged to drop in for all or part of the evening. Light refreshments will be served.

This event is made possible by the Hester Coward Fund.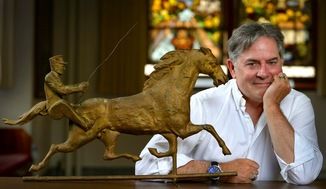 Mark F. Moran conducts community events that involve appraisal of antiques, collectibles, and decorative arts in the upper Midwest.
Formerly senior editor of Antiques and Collectibles Books for Krause Publications, he has also been a contributing editor for "Antique Trader" magazine.

He is the author or co-author of more than 25 books on antiques and collectibles, including the 800-page annual Warman's Antiques & Collectibles.