If you want to be successful in the world of retail, you have to stand out.
Competition for sales with other brick and mortar locations as well as ever growing ecommerce sales underline the importance of creating a unique and remarkable in-store experience for your customer.
You may be competing with larger businesses and online retailers when it comes to prices and product, but you have an advantage and opportunity with your small business. You have the ability to create a fully immersive experience that appeals to all of their senses, not just their eyes and pocketbooks.
In order to get customers in the door, and keep them coming back, your business needs to tell an ever-evolving story that immerses them in your brand, engages, and inspires. When done right your store just about sells itself and converts your customers into advocates.
So how do you create a magical experience for your customers and your bottom line? Here are a few tips to get you started:
Put on a Show
Theater is all about conveying emotions and making connections with your audience. A customer's buying habits are greatly affected by how they feel. Put some thought into the emotional tone you want to set in and outside of your store. What mood do your customers need to be in to find your merchandise appealing? Do you want to pump them up or soothe and relax them? Make good use of color, imagery, music, aromas, lighting, and textures to calm and comfort or energize and enliven. And don't forget to budget for maintenance or that awesome awning out front calling your customers in may start scaring them away.
A Place for Everything and Everything in Its Place
Have a plan and a reason for the placement of everything in and outside of your store. The placement of a product in your store will have a bigger impact on sales than the qualities of the product itself. So it's important to strategize for how to feature the latest and greatest as well as how to set up a clearance section. Establish a pathway and place your products along that path according to your sales priorities. Create a focal point right up front and always display your newest and exciting products there with plenty of fanfare. Rotate your featured merchandise further down your store's pathway as you get in new items and feature something new. Refreshing your display order on a regular basis helps keep regular customers from getting bored and ensures those shiny new gizmos find new homes.
Get to Know Your Customers
It is likely that your business is located in a tight knit community where people know you and they know your business. One way to enhance a customer's in-store experience is to take some time to get to know them. Commit your customer's names to memory, ask them how they are doing, is there anything you can help them find, and always thank them for coming in to your store. These are all ways to show your customer how much you appreciate their business.
Step into Your Customer's Shoes
Shop your own store. Browse your wares as your customers would and think about the experience you are having. Do you have enough space to move around and not bump into things? No one wants to feel like the bull in your china shop and most people will leave fairly quickly without making a purchase if they are unable to move freely around your store. Is everything visible, including way finding signage? Customers expect visual freedom whether inside or outside your store. So make sure you get a good view of your merchandise through your store windows as well as at all 360 degrees from all parts of your shop.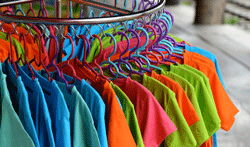 Check Out These Online Resources at the Johnson County Public Library
AtoZdatabases
Find a job, business, person or create mailing lists & sales leads. AtoZdatabases is an essential tool for your marketing campaign, helping you reach new movers and homeowners, as well as consumers by location, income, home value and interest.
Access
Business Source Complete
Contains full text from the world's top business journals and is particularly strong in both management and marketing. Provided by INSPIRE.
Access
EBSCO Management Collection
Provides access to news and articles on topics in business, banking, law, finance, management, advertising, human resources and more. Provided by INSPIRE.
Access
International Directory of Company Histories
Provides histories of companies that are a leading influence in a particular industry or geographic location.
Access
Regional Business News
Provides comprehensive full text for regional U.S. business publications covering business, politics, and economics. Provided by INSPIRE.
Access
Small Business Reference Center
This database offers exclusive full text for many top consumer small business reference books, as well as the necessary tools and instructions to address a wide-range of small business topics. In addition, it provides business videos, a help and advice section, and information on how to create business plans. Provided by INSPIRE.
Access
Value Line
This is your gateway to a powerful investment resource. Value Line provides access to a vault of investment research, approximately 3,500 stocks, data, expert analysis, and unbiased commentary with a time-tested and performance-proven Ranking System. It includes the The Value Line Investment Survey®— Small & Mid-Cap. Please be aware that there is a limit of four (4) simultaneous users.
Access
Be Weird
Weird may be a strong word, but look for ways to be unusual and set yourself apart from stores with similar product and clientele. Look for inspiration in other industries and think outside the box. Experiment and constantly try new things. Pick a unique theme for this season and be ready with ideas for upcoming seasons. Keep the core mood of your store relatively the same, but some change is important to stay relevant and keep regular customers engaged.
Stay on Your Toes
Monitor and measure for success. Pay attention to what's working and what bombs. It's not enough to put in tons of planning on the front end only to set it and forget it. You have to stay on your toes and move with the trends. Notice what your customers are responding to and consider doing more of it. Learn from your failures and keep experimenting.
Bright Ideas for Business is an information sharing program of the following community partners:
Johnson County Public Library
Johnson County Development Corporation

Visit the Bright Ideas for Business section on PageAfterPage.org.