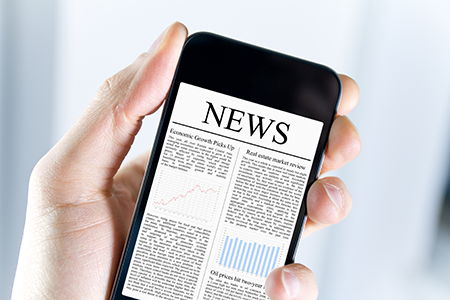 The rise and spread of "fake news" has been a hot topic this month, as internet users routinely encounter fabricated stories posted to social media in the hope of making a quick buck off the advertising dollars they receive for page views.
Facebook CEO Mark Zuckerberg acknowledged fake news and online misinformation was a problem and outlined his company's steps to combat it in a post last week. Both Google and Facebook are taking steps to ban known fake news providers from their ad networks. Much like email spam, the spread of fake news will hopefully be slowed, but may never be eliminated. That's why it's important for all Internet users to be informed consumers of information.
Here's three easy things you can do next time you spot a news story you suspect may be a hoax:
Be detail-oriented. Check the source of the story. Had you heard of this website before today? Some unscrupulous folks will create networks of hundreds of fake news sites in the hopes of making a quick buck off each before they're shut down. It's possible, but unlikely, a blog from Macedonia that just appeared three days ago has landed an earth-shaking scoop that the big news organizations somehow missed.

Step outside social networks. Social networks like Facebook and Twitter are petri dishes for misinformation. It's so easy to quickly share and repost questionably sourced material that a completely fabricated story can appear and spread to millions of people before it can be debunked. So next time you see that story about the Pope being abducted by aliens, check to see if it's being reported by other news organizations. Google News collects articles from thousands of news sources, so it's easy to search for a story and see what other newspapers, magazines and websites are reporting.

Use a fact-checker. There are several great websites dedicated to analyzing internet rumors. These non-partisan fact checkers confirm or deny news stories going around the internet, and provide extensive references so you can decide for yourself. The most famous is snopes.com, which has been doing this work since 1995, but has really taken off in the social media era. Checking Snopes before you share that story is one of the best things you can do to help fight the spread of online misinformation.

Librarians have been trusted experts and teachers of information literacy since long before the internet reached our homes and workplaces. When in doubt, ask your librarian for help separating the good info from the bogus.
---

Davin is the Virtual Branch Manager at JCPL. He may own more electronic gadgets than he cares to admit, but he's an old school librarian at heart. Davin believes technology should make life easier, not more complicated. Connecting patrons with the tools that can help them get more done, learn more and have more fun is his passion.
Join the conversation at davin@jcplin.org.
Sign Up to Receive 'Now You Know'