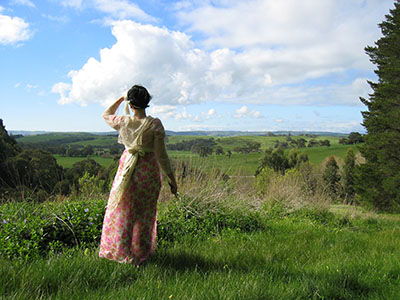 "I declare after all there is no enjoyment like reading! How much sooner one tires of anything than of a book! " Jane Austen was and always will be one of the most beloved authors in the world. Her books have never been out of print and there are hundred (probably thousands) of movie adaptations, fanfictions, spinoffs and more. Have you watched every version of Pride and Prejudice? Dreamed of having a Darcy all your own? Read all six of Jane Austen's novels wishing that there were more? If so, never fear! I have a list that will help quench the thirst. Join the ranks of Janeites all over the worlds by reading this list of spin offs, readalikes and books about Austen. It's a list that keeps growing every year so I doubt we'll run out anytime soon!
"Austenland" by Shannon Hale
Jane's obsession with Mr. Darcy is ruining her love life: no real man can compare! When a wealthy relative sends her to an English resort catering to Austen-crazed women, Jane's fantasies of meeting the perfect Regency-era gentleman suddenly become more real than she ever could have imagined.
"An Assembly Such as This" by Pamela Aiden
While this book isn't a sequel, it's a wannabe adaptation: it retells the story of "Pride and Prejudice" from the viewpoint of Mr. Darcy. This one ends after the ball at Netherfield, with Darcy and Miss Bingley conspiring to remove Charles from Hertfordshire.
"Mr. Darcy Takes a Wife: Pride and Prejudice Continues" by Linda Berdoll
Hold on to your bonnets! This sexy, epic, hilarious, poignant and romantic sequel to "Pride and Prejudice" is not for Jane Austen purists. This sequel continues the story of Elizabeth Bennet and Mr. Darcy through a sweeping tale of adventure.
"Mr. Darcy's Diary" by Amanda Grange
Mr. Darcy's Diary presents the story of the unlikely courtship of Elizabeth Bennet and Fitzwilliam Darcy from Darcy's point of view. This imagining and sequel to "Pride and Prejudice" explains Darcy's moodiness and the difficulties of his reluctant relationship as he struggles to avoid falling in love with Miss Bennet.
"Pride and Prejudice and Zombies" by Seth Grahame-Smith
"It is a truth universally acknowledged that a zombie in possession of brains must be in want of more brains." So begins "Pride and Prejudice and Zombies," an expanded edition of the beloved Jane Austen novel featuring all-new scenes of bone-crunching zombie mayhem.
"Death Comes to Pemberley" by P.D. James
A best-selling historical crime fiction tribute to "Pride and Prejudice." Conjuring the world of Elizabeth Bennet and Mark Darcy and combining the trappings of Regency British society with a classic murder mystery, James creates a delightful mashup that will intrigue any Janeite.
"The Lost Memoirs of Jane Austen" by Syrie James
What if Jane Austen's memoirs were discovered after hundreds of years? What if those pages revealed the untold story of a life-changing love affair? That's the premise behind this spellbinding novel, which delves into the secrets of Jane Austen's life, giving us untold insights into her mind and heart.
"Jane and the Unpleasantness at Scargrave Manor" by Stephanie Barron
An entertaining new series that turns the incomparable author into an extraordinary sleuth! On a visit to the estate of her friend, the young and beautiful Isobel Payne, Countess of Scargrave, Jane bears witness to a tragedy. Jane soon finds herself embroiled in a perilous investigation!
"Confessions of a Jane Austen Addict" by Laurie Viera Rigler
In this Jane Austen inspired comedy, love story and exploration of identity and destiny, a modern LA girl wakes up as an Englishwoman in Austen's time.