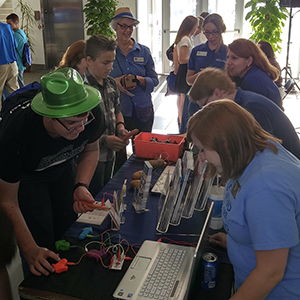 If you know any seventh, eighth or ninth graders, then you need to sign them and their schools up for Endress+Hauser's Community Career+Education Forum. On Sept. 28 from 5:30 – 8:30 p.m., the manufacturer opens its doors to the community and hosts a huge Science, Technology, Engineering and Math event. Schools with students in attendance have the opportunity to earn money toward STEM programming for their classrooms through a number of grants made possible by area businesses. Last year almost $10,000 was awarded to area schools! You don't want yours to miss out.
Last year was the first year that the library participated, and it was amazing! Manufacturers from around the area have displays set up where the kids can interact with materials and equipment and learn about what these businesses do. Universities have booths demonstrating their technology, such as 3D printing and imaging, and have information about their programs. Many schools bring their robotics teams to demonstrate what their creations can do. The library is bringing our robots, Sphero and Dash, and also Google Cardboard Virtual Reality. There is so much to see and do, plan on hanging out for a few hours. You don't have to worry about dinner, as a meal is provided for attendees in the cafeteria.
Endress+Hauser open up their Process Training Unit, a condensed version of their production line, for a production challenge. Students who complete the challenge are eligible for prize drawings. Their actual production lines will be open for tours, wear closed-toe shoes so you don't miss out. The lines are really cool! The students receive a card and if they visit all the booths to get the card stamped they are also entered into prize drawings. "Are You Smarter Than an Engineer" contests will be set up, so anyone can test their smarts against the professionals. This entire event will get students (and adults!) fired up about science and careers in manufacturing. I left with my head buzzing from all the things I learned, and I didn't even get to see half of the displays. Not only that, if you haven't been to the E+H campus before, it's a pretty cool place. They will have plenty of parking, and shuttles from the lots that are farther out from the event buildings.
The Community Career +Education Forum is a wonderful way to explore careers in STEM while having a ton of fun and earning money for your school. For more information, check out their website. I hope I'll see you there!