It's a small world when doing business in Johnson County. Many companies such as NSK, Endress + Hauser, KYB, and Mitsubishi Climate Control have international roots.
While these and others usually follow traditional Western business customs and practices, it is important to understand and respect traditions that are important to foreign partners.
The Johnson County Development Corporation (JCDC) has developed relationships with a number of international companies that have plants in Johnson County. These relationships are very valuable and are important in the business community.
Dana Monson, Director of Business Development for JCDC shares her thoughts on how to communicate respectfully with other cultures in the business community.
Develop, nurture the relationship
When a business owner plans to work with an international company, it is important to take the time to develop a good relationship with that company. One way to start developing the relationship is to learn about their culture.
Greetings
Bonjour, guten tag, hola, konnichiwa, and ni hao are all ways to say hello in another language. In some cultures it is acceptable to greet a businessperson with a handshake. In Japan, they greet one another with a bow. A foreign visitor should shake hands with a slight nod and when receiving a business card from a Japanese business representative, it is considered impolite to put the card in your pocket or write on the card.
Punctuality
Punctuality is an important part of doing business. Cultures such as the Chinese, German, Japanese, British, and Americans value their time. It is crucial to be punctual when doing business with these cultures. However in France, it is acceptable to be 15 minutes late to a meeting.
Gestures
In countries such as Australia, Greece, and the Middle East the American "thumbs up" sign is considered to be an offensive gesture. In Germany or Japan they use their thumb to count. Pointing with your index finger is also considered a rude gesture but in some countries it is highly offensive.
Entertainment
In France many business meetings are done over lunch in order to allow time for building relationships. If you are dining with someone from the Chinese or Japanese culture you should be aware of chopstick etiquette. Gift giving is acceptable for special occasions in Chinese and Japanese cultures.
Communicate patiently
When speaking to a representative with a foreign company, speak clearly and enunciate - but don't over-enunciate. Avoid speaking too quickly or mumbling. Do not use colloquialisms or slang. Also, it is important to remember when speaking that you allow time for the other person to process what has been said.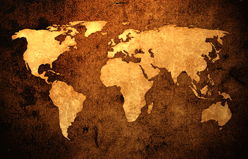 Check Out These Online Resources at the Johnson County Public Library
AtoZdatabases
Find a job, business, person or create mailing lists & sales leads. AtoZdatabases is an essential tool for your marketing campaign, helping you reach new movers and homeowners, as well as consumers by location, income, home value and interest.
Access
Business Source Complete
Contains full text from the world's top business journals and is particularly strong in both management and marketing. Provided by INSPIRE.
Access
EBSCO Management Collection
Provides access to news and articles on topics in business, banking, law, finance, management, advertising, human resources and more. Provided by INSPIRE.
Access
International Directory of Company Histories
Provides histories of companies that are a leading influence in a particular industry or geographic location.
Access
Regional Business News
Provides comprehensive full text for regional U.S. business publications covering business, politics, and economics. Provided by INSPIRE.
Access
Small Business Reference Center
This database offers exclusive full text for many top consumer small business reference books, as well as the necessary tools and instructions to address a wide-range of small business topics. In addition, it provides business videos, a help and advice section, and information on how to create business plans. Provided by INSPIRE.
Access
Value Line
This is your gateway to a powerful investment resource. Value Line provides access to a vault of investment research, approximately 3,500 stocks, data, expert analysis, and unbiased commentary with a time-tested and performance-proven Ranking System. It includes the The Value Line Investment Survey®— Small & Mid-Cap. Please be aware that there is a limit of four (4) simultaneous users.
Access
Document in their language
It is also beneficial to provide documents in the business person's native language. If you are interested in working with a Mexican company have a brochure about your company printed in Spanish. Many other countries use the metric system so providing them information using this system is helpful. Have your business card prepared in Spanish as well.
Learn more
There are a number of organizations that are available to assist you with learning about another culture, for example the Japanese-American Society of Indiana periodically holds classes on Japanese culture and etiquette www.japanindiana.org/english. The Adult Learning Center of Johnson County Public Library can also help you learn about another culture's business meeting etiquette www.pageafterpage.org/alc.
Ask questions
Be mindful that you are working with a businessperson from another culture. Do not avoid addressing the differences in how the two cultures conduct business. Instead, ask questions and develop a way to work together that is functional for both cultures.
Working with a company or individual from another culture may require you to take an extra step or two, but it can be very rewarding for you both professionally and personally.
Bright Ideas for Business is an information sharing program of the following community partners:
Johnson County Development Corporation

Visit the Bright Ideas for Business section on PageAfterPage.org.