Can you believe it? We are half way through the year! What a great time to look at that business plan and see how you are doing.
There are at least three areas that you should review at this critical halfway point: sales, cash flow and marketing effectiveness. Let's take a short look at each one.
Sales
This is the life blood of any business. Remember those sales forecasts that you used to get your loan, support your profit forecast or project the growth of your business? Now is the time to see just how realistic that forecast was.
Now, midway through the year, the sales results will tell you if you were too optimistic or too pessimistic when you developed your plan. In either case, you have enough time to take action.
If you were too optimistic you can now plan a sales campaign, discount incentive or other sales influencing initiative.
If you were too pessimistic, you may need to add staff, increase inventory or adjust work hours to meet the increased demand.
Cash Flow
A business is vulnerable to cash shortfalls at two critical stages; start up and rapid growth. You should always review your cash position. Midyear is a great time to assess your free cash flow and your line of credit.
Remember those unanticipated sales? You may need more cash to work overtime, purchase more inventories or hire that additional employee. Seems to be a good time to talk with your banker! Your banker will always take your call, if you have good news.
If your cash flow is not in good shape, you may need to leverage your line of credit to run a marketing campaign, provide discount pricing or meet upcoming expenses. Cost control action may need to start now!
Marketing Plans
Finally, have you assessed your marketing programs? Which of your marketing approaches has yielded the best return? Which approach has not met your expectation?
Marketing is always in a constant state of evaluation, correction and change. Midyear is one of those times that you need to take this measurement. How about shifting your resources to those approaches that have a higher rate of return? Then you can use the remaining budget to try new – maybe innovative – marking strategies to attract new clients or revive past, inactive ones.
So here you are. Midway between your best guess for the year and the end of the year rushing toward you! Now is the time! Take a look; assess where you are; initiate corrective action.
Mike Crumbo is the Branch Manager at SCORE, which works one-on-one with both start up and established companies to help them be successful. In addition to the individual mentoring, SCORE conducts workshops covering the span the gamut of business challenges. SCORE's Greenwood office is in the Greater Greenwood Chamber of Commerce building, 65 Airport Parkway, Suite 140.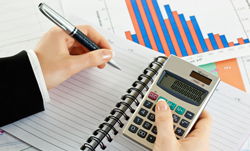 Check Out These Online Resources at the Johnson County Public Library
AtoZdatabases
Find a job, business, person or create mailing lists & sales leads. AtoZdatabases is an essential tool for your marketing campaign, helping you reach new movers and homeowners, as well as consumers by location, income, home value and interest.
Access
Business Source Complete
Contains full text from the world's top business journals and is particularly strong in both management and marketing. Provided by INSPIRE.
Access
EBSCO Management Collection
Provides access to news and articles on topics in business, banking, law, finance, management, advertising, human resources and more. Provided by INSPIRE.
Access
International Directory of Company Histories
Provides histories of companies that are a leading influence in a particular industry or geographic location.
Access
Regional Business News
Provides comprehensive full text for regional U.S. business publications covering business, politics, and economics. Provided by INSPIRE.
Access
Small Business Reference Center
This database offers exclusive full text for many top consumer small business reference books, as well as the necessary tools and instructions to address a wide-range of small business topics. In addition, it provides business videos, a help and advice section, and information on how to create business plans. Provided by INSPIRE.
Access
Value Line
This is your gateway to a powerful investment resource. Value Line provides access to a vault of investment research, approximately 3,500 stocks, data, expert analysis, and unbiased commentary with a time-tested and performance-proven Ranking System. It includes the The Value Line Investment Survey®— Small & Mid-Cap. Please be aware that there is a limit of four (4) simultaneous users.
Access