As a small business owner, your priorities are to grow your company and to increase your profit all within your demanding schedule. To do this, you must generate interest in your product or service, collect qualified leads and close sales.
According to a study from the Harvard Business Review, businesses waste 71 percent of their leads. It doesn't take a mathematician to know that those aren't good odds. Since finding qualified leads can be challenging, knowing how to keep their interest is critical to your success.
We reached out to Tanya Smythe, Broker and Owner of Smythe & Co. Real Estate in Greenwood, for advice. Smythe has more than 25 years of experience working with a wide range of real estate, ranging from new construction to luxury properties to first-time home buyers. Her ability to follow up with leads to close sales makes her the perfect professional to provide guidance.
Here are her tips:
Create a sense of urgency. Make sure you respond quickly to your leads. They should feel like they are your only client. Smythe & Co responds to its leads within two hours or even sooner if it is possible.
Make a personal connection. Your clients should feel like family. You want to connect with them on a deeper level than just business. By forming this personal connection, you will build trust.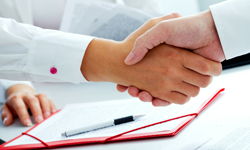 Business Online Courses
The Johnson County Public Library provides online business courses
on our website PageAfterPage.org. Courses include:
Don't overlook the small things. Phone calls and hand written notes are two simple gestures that can go a long way. This is important especially if you are unable to meet in person immediately.
Always follow up. Follow up with leads even after you have spoken with them. Always make sure your client's needs are met and your expectations are aligned. There is nothing worse than miscommunication.
If you have a lot of interest and find yourself with limited time, you need to prioritize your leads. To do this, you should consider the following factors to help save yourself some sanity.
Where did your lead reach out to you? If your lead reached out to you online, they require a quicker response time than if they are an offline source. Studies have shown that responding within 5 minutes to online inquiries increases your chance of making the sale.
How qualified is your lead? What type of company does this contact work for? It is important to spend more time with leads that are a better fit for your product or service. While you must respond to all inquiries, you should focus on the leads with the most potential. The more interest a lead shows in your product or service, the greater the chance your time spent with that lead will pay off.
How unique is your product or service? If you offer something common, you should have a very quick response time. You don't want your lead to reach out to another company while he or she is waiting on you. Even if you offer a unique service, you still should have a fairly quick response time to build customer satisfaction. You want your customers to feel valued.
Research by Inside Sales has shown that touching a lead six times increases the chance of making a contact by 70 percent. If you don't hear back from your lead right away, don't give up. Keep trying to reach him or her and incorporate phone calls and emails.
Bright Ideas for Business is an information sharing program of the following community partners:
Johnson County Development Corporation

Visit the Bright Ideas for Business section on PageAfterPage.org.