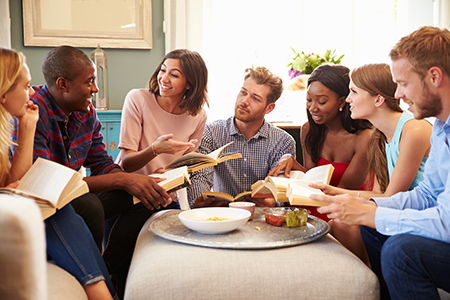 Book Clubs. It seems like everyone is in one! How did they find a group? Did they start one? What's a book lover to do?
Well, you can start at your library! Every JCPL Branch has book clubs that meet regularly. The schedules are posted here with the upcoming titles listed. The library's groups are great places to try out book discussions and to read lots of things that you might not try on your own. Even if you don't like the choice, or don't finish reading it, great discussions can flow from all the different opinions. For adults 21 and over, you might want to check out Stout Stories. This book club meets at a different brewery or winery each month. Whether you're a milleni-"ale" or an older "vintage," come out and meet like-minded individuals.
The library is also a good place for established book clubs to borrow sets of titles. We offer a wide variety of titles that are bagged up and ready to go. Your branch can also get you sets of books from Indiana Humanities. Schedule your book kit online and then pick it up at your library. This is an easy and free way to get books to your club members! See the available titles here.
Meetup.com has several large book clubs listed in the Indianapolis area including one that meets at Craft+Cork close to the White River Library. Goodreads lists groups that meet in person as well as online including library groups. Sometimes book clubs post on notice boards at bookstores and you can search social media sites for book clubs in your area. Ask friends and co-workers, too. They may belong to clubs that welcome new members.
If you can't find a group, form one yourself. You can start with just two people. It's surprising how quickly book clubs can grow. Pick titles that are readily available from libraries or that are in paperback if cost is an issue. Don't forget to check e-book editions, as well. Decide if you want to meet at a public place or at home. Some groups meet at the same place each month, others rotate hosting or try different restaurants or coffee shops each time. Snacks and refreshments are great, and you don't have to go all out. Remember, you are there for books and friendships, so if you are not Pinterest-worthy, relax!
Many publishers offer book group questions to foster discussion. Reading Group Guides has over 4000 printable book guides that include a summary, author biography and discussion questions. Googling your book's title and "discussion questions" can also lead to guides. The American Library Association has a page of resources for book clubs that has generic questions and other tips for facilitating good discussions. One tip that I use for the library is to bring in photos of the book's locations, maps, background information on the author and even videos or audio recordings. It truly brings the book to life, especially for historical fiction and books that take place in other countries. Some groups serve food that was mentioned in the book. Feel free to bring questions, pictures or other items to any book group meeting.
There are tons of online, virtual book discussions happening on Goodreads, Facebook, Twitter and all over the internet. Online clubs will post that month's title, and then host a discussion using a designated webpage set up for posting and commenting or a special hashtag. Membership can be fluid, so you if you read a book and want to talk about it, sometimes you can find a virtual group that is reading that title and join in the discussion.
Feel free to post your questions and comments, and happy reading!
---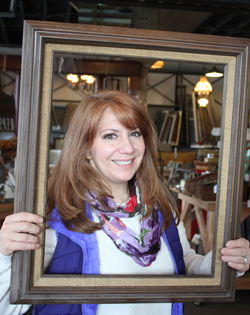 Amy is a librarian at the White River Branch. At heart, she is an adventuress who loves to try and learn new things with family and friends…even if she ends up an epic failure. Having fun while doing good for others makes for the best adventures. So look for Amy shopping at thrift stores, running for a cause or eating and drinking at fundraisers!
Join the conversation at amy@jcplin.org
Sign Up to Receive 'Now You Know'