News travels fast and everybody wants to know what hot topics are trending right now. Many people turn to social media sites to learn about everything from "National Donut Day" to the news happening in their community.
In fact, according to Business2Community.com, more than 70 percent of U.S. online adults are using some form of social media networking and 58 percent of adults are using Facebook.
Does your business have a Facebook page? Do you have an account on a social media site that isn't getting a lot of attention? Here are some helpful tips that will help your business page to be more "likeable" and engaging:
Limit social media platforms.
Select one or two social media sites that you think will work best for your business and do them well. Research the demographics of the sites you're considering and decide which will help you reach your target audience most effectively. By maintaining a presence on only one or two sites, you can spend your time focusing the posts that are most important to your business. You don't want to waste your time posting to six different accounts and wonder why the information isn't reaching your audience.
Make presentation a priority.
Visual elements catch your audience's attention when scrolling through their newsfeeds. Break up the text heavy posts by including relevant photos from a recent event you hosted or licensed stock photos that relate to your post or business. A subscription to a stock photo service will cost you much less over the long run than a lawsuit over an unlicensed image. So always make sure you have the right to share any "free" pictures you find online.
Use your best content.
What are the needs of your readers? Start to cultivate a relationship with your audience. Find out what kinds of topics interest them and tie those topics back to your business. Much like you are an expert for your business, you can become an expert for your readers. Be their go to when they want to find answers to topics that are important to them. Make sure the information you are providing is accurate and valuable.
Keep it simple.
Try to post on your Facebook page at least once every day - and if you can, post more than once a day. Readers are skimming through their newsfeed very quickly during their free time, so try to keep your posts brief. Most Facebook users are only spending an average of seven minutes reading posts. When preparing your posts, write in a conversational style and avoid jargon.
Be responsive to comments and questions.
You don't have to keep a constant eye on your social media sites. However, you do want to check them periodically to see how people are interacting with you. Check to see if there are unanswered questions or comments on your page and take a few minutes to address them. You want to be interacting with your audience. Also, be sure to update outdated information on your "about" page. Most major social media platforms offer specialized smartphone apps to help you manage your page and interact with users on the go.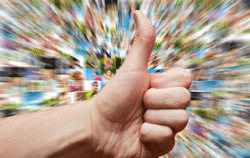 Check Out These Online Resources at the Johnson County Public Library
AtoZdatabases
Find a job, business, person or create mailing lists & sales leads. AtoZdatabases is an essential tool for your marketing campaign, helping you reach new movers and homeowners, as well as consumers by location, income, home value and interest.
Access
Business Source Complete
Contains full text from the world's top business journals and is particularly strong in both management and marketing. Provided by INSPIRE.
Access
EBSCO Management Collection
Provides access to news and articles on topics in business, banking, law, finance, management, advertising, human resources and more. Provided by INSPIRE.
Access
International Directory of Company Histories
Provides histories of companies that are a leading influence in a particular industry or geographic location.
Access
Regional Business News
Provides comprehensive full text for regional U.S. business publications covering business, politics, and economics. Provided by INSPIRE.
Access
Small Business Reference Center
This database offers exclusive full text for many top consumer small business reference books, as well as the necessary tools and instructions to address a wide-range of small business topics. In addition, it provides business videos, a help and advice section, and information on how to create business plans. Provided by INSPIRE.
Access
Value Line
This is your gateway to a powerful investment resource. Value Line provides access to a vault of investment research, approximately 3,500 stocks, data, expert analysis, and unbiased commentary with a time-tested and performance-proven Ranking System. It includes the The Value Line Investment Survey®— Small & Mid-Cap. Please be aware that there is a limit of four (4) simultaneous users.
Access
Keep it professional.
Your social media page is a representation of your business. Therefore, your business page should not be plastered with content about your political views or religious beliefs. Keep your posts professional and save the political rants for your personal page. You want to avoid troll wars and heated debates at all costs. Carefully review any linked content for any offensive material or comments.
Be a team player.
Engage in partnerships with other businesses and let them be an expert for you. "Like" business pages that are comparable to your own. Their information will be similar to yours and you can share relevant content with their permission. You can also tag partners in your posts to let your audience know that you are working together. Share links to other related sites or articles that you think your audience will want to read.
Review your content before posting.
Read your posts aloud with another coworker and listen for clunky wording that your readers may stumble over. To avoid potential embarrassment, always make sure to double-check your spelling and grammar before posting. Also, use a consistent voice and style of writing to build confidence with your audience.
Bright Ideas for Business is an information sharing program of the following community partners:
Johnson County Development Corporation

Visit the Bright Ideas for Business section on PageAfterPage.org.