Happy Hour is About to Get Even Happier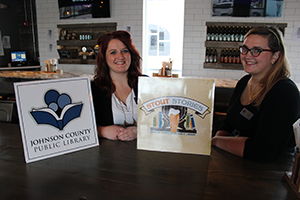 JCPL Introduces Stout Stories – A New Book Club for Adults
Posted by: Johnson County Public Library | Wednesday, December 2, 2015
Whether you're a milleni-"ale" or an older "vintage," come out and meet like-minded individuals. Together we'll put the "pub" in public library!
Stout Stories is "reinventing the book club" with promises of great food, drinks, comfortable atmosphere and great discussion on today's most intriguing books.
This book discussion will be held at rotating local breweries and wineries such as Taxman, Mallow Run and Scotty's Brew Club. Participants must be 21 and older.
Please read and drink responsibly. Seating is limited and registration is required.
There is a waiting list for the first Stout Stories on Dec. 7 but you can register for the January and February meetings at pageafterpage.org!
"To Kill A Mockingbird" by Harper Lee (Find a copy at the library)
Monday, Jan. 4 from 6:30-8 p.m.
Mallow Run Winery
6965 West Whiteland Road., Bargersville
"Big Little Lies" by Liane Moriarty (Find a copy at the library)
Monday, Feb. 1 from 6:30-8 p.m.
Scotty's Brew Club
1800 E. King St., Franklin
Visit the reference desk to obtain a copy of the book. For more information, please visit pageafterpage.org.