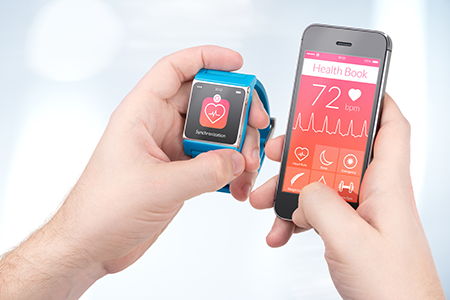 Computers and technology used to be associated with a sedentary lifestyle. When we were tethered to our desks and chairs, it was assumed that in order to get out and get some exercise, you had to get away from your devices.
Since the arrival of the smartphone in the mainstream 10 years ago, the health and fitness industry has continually innovated new devices and applications that let you make the most of technology to optimize your exercise and diet.
This week we'll look at some of the most popular fitness trackers available. Most of these devices communicate with an app on your smartphone to track your fitness, sleep and diet.
Cost: $60-$200
Tracks: Exercise, sleep and diet
Fitbit emphasizes the social aspect of fitness tracking, letting you choose data and milestones to share with friends and family who also use Fitbits. If you like to get encouragement from others on your fitness journey, Fitbit is worth a look.

Cost: $60-$200
Tracks: Exercise and sleep
Not surprisingly from the company that popularized car GPS systems, Garmin's devices includes a GPS tracker that lets you record your running and walking routes closely. For that reason, Garmin devices seem to be most recommended for runners and cyclists.

Cost: $35-$150
Tracks: Sleep and activity
The Jawbone boasts advanced sleep tracking capabilities – an important and sometimes overlooked element of any fitness plan – and a unique coach function that gives you diet and exercise advice based on the data it collects.

Cost: Free with smartphone
Tracks: Steps, sleep and calories
If you're not ready to take the plunge, your smartphone can already perform a number of fitness tracking functions. Apple's pre-installed "Health" app can be used to track activity, sleep, nutrition and more, either by collecting data from your other fitness apps or by direct entry. Android users have similar options, including apps from Google and Samsung.

For a comprehensive, up-to-date review of fitness tracker options, check out this regularly updated article from The Sweet Home.
---

Davin is the Virtual Branch Manager at JCPL. He may own more electronic gadgets than he cares to admit, but he's an old school librarian at heart. Davin believes technology should make life easier, not more complicated. Connecting patrons with the tools that can help them get more done, learn more and have more fun is his passion.
Join the conversation at davin@jcplin.org.
Sign Up to Receive 'Now You Know'