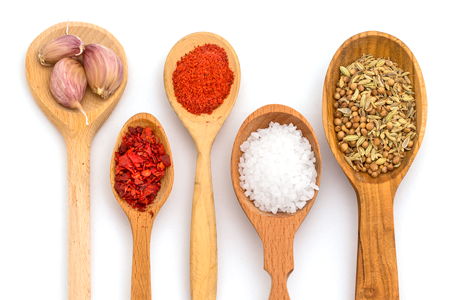 I love to cook! Maybe you do too. Making your own meals is a great way to ensure you're getting healthy wholesome ingredients, all tailored to your own tastes. However, many recipes result in eight to ten servings. I don't know about you, but my family is not that large. Plus, cooking can take time, and quicker less healthy options are a constant temptation. But there is hope! Let's look at ways we can still have great tasting, healthy, home-cooked meals without all the hassle.
Planning is key. It's nearly impossible to cook something healthy if you haven't strategically shopped for good ingredients. Before heading to the store, plan out a few meals and create a list. Consider how you could use leftovers from one meal to create a different meal. For instance, Sunday's leftover pot roast could be used in a sandwich on Monday and in a stir-fry or soup on Tuesday. Buying in bulk is helpful if you have that option available. When your recipe calls for three mushrooms, you can buy just three mushrooms, reducing your cost and the chance for waste. Avoid buying prepackaged meals. They may seem nice to have on hand, but they are likely to contain lots of unhealthy ingredients.
Get to know your freezer. If you have leftovers, freeze them within a few days in single serve containers to reheat when you don't feel like cooking. Freeze individual portions of cooked whole grains such as brown rice or barley in muffin pans and then place them in a freezer bag for easy retrieval. Take the same approach with other foods. Bake individual portions of meatloaf in small loaf pans or muffin tins then freeze in separate freezer bags for easy meals later. Freeze extra soup in jumbo muffin tins, and when frozen, store them in a freezer bag. When you want a quick cup of homemade soup, drop one in a mug and microwave it.
Swap leftovers with a friend. Find a friend that also loves to cook and suggest you trade leftovers. Each person can make their meal and then package up a serving or two to be eaten the next day or frozen for later. You'll both get to taste something new and share your culinary skills. Better yet, get several friends to join and create your own cooking club!
Seek out new recipes. JCPL has lots of great cookbooks that can give you ideas and recipes for your next meal (it's my favorite aisle in the library!) We also have popular magazines, such as "Cooking Light," "Eating Well" and "Weight Watchers" that you can check out for more inspiration. Many of these items are available in either print or a downloadable format. Visit your branch for more information. In addition to cookbooks, there are lots of good online recipe collections too. Some of them, such as www.allrecipes.com, give you the ability to search for recipes and then scale them down to make the exact amount you want.
Keep good nutrition in mind. Eating right doesn't have to be complicated. Load up your plate with a variety of fruits and vegetables. If they're not in season, frozen varieties are still very nutritious and handy. Switch to fat-free or low-fat milk, yogurt and cheese. Calcium and vitamin D are essential to healthy bones and are especially important as we age. Eat a variety of proteins, such as seafood, nuts and beans, as well as lean meat, poultry and eggs. Cut back on sodium and watch out for solid fats and added sugars.
So, there you have it. Cooking for one or two doesn't have to be hard, and it can be fun. Give it a try.
---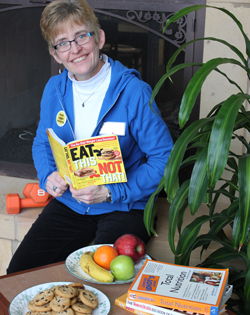 Linda is the White River Branch Manager and leader of our staff wellness team. Staying healthy and keeping fit are keen interests of Linda. Her goal is to enable others to live a healthy lifestyle through good nutrition, physical fitness and a positive outlook, although (shhhhh) she does confess a weakness for potato chips and Cheetos! Join the conversation at linda@jcplin.org.
Sign Up to Receive 'Now You Know'