Want to discover reliable health information online, learn how to eat healthy throughout the year or explore the great outdoors?
Linda Kilbert, White River Branch Manager provides helpful information for you in her Healthy Living blog. Click on the topic below to read her ideas and advice.
Ask questions. Share with family and friends. Join the conversation.
---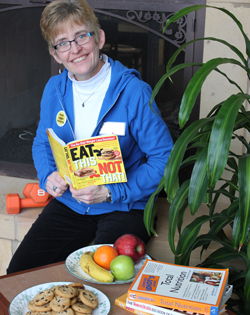 Linda Kilbert
Linda is the White River Branch Manager and leader of our staff wellness team. Staying healthy and keeping fit are keen interests of Linda. Her goal is to enable others to live a healthy lifestyle through good nutrition, physical fitness and a positive outlook, although (shhhhh) she does confess a weakness for potato chips and Cheetos!
Contributors: Todd Jones and Bobbi Whittemore
---
Connect With Linda
Do you have a blog topic idea or question about Healthy Living?
Healthy Living Recommended Library Resources
Health & Wellness Resource Center - Delivers up-to-date reference material as well as full-text magazines, journals and pamphlets from a wide variety of authoritative medical sources.
Health Source: Consumer Edition - This resource provides access to nearly 300 full text, consumer health periodicals, including American Fitness, Better Nutrition, Harvard Health Letter, Men's Health, Vegetarian Times and many others.
MedlinePlus - Extensive easy-to-read information from the National Institute of Health and other trusted sources on over 7,000 diseases and conditions.
Go4Life - This site focuses on exercises, activities and nutrition, with lots of helpful articles and tip sheets.
Eat Right - This site has articles, fact sheets, recipes, videos and more to help people of all ages live healthy lives through good nutrition choices.
Note
The information on this website is designed for educational purposes only and is not intended to provide medical advice or to take the place of medical advice, diagnosis and treatment from your personal physician. You are advised to consult your own doctor or other qualified health professionals regarding concerns or questions about your health and the treatment of your medical problems. You should always consult your doctor or qualified health professional before beginning or changing any exercise or nutritional program. Do not disregard, avoid or delay obtaining medical or health-related advice from your doctor or qualified health professional because of something you may have read on this site. The use of any information provided on this site is solely at your own risk.