Are you standing at the edge of the entrepreneurial pool and wanting to dive in?
The waters of starting your own business look warm and safe. Being your own boss. Making your own schedule. Proving that your great idea or an excellent skill has value.
But, of course, there is a downside. According to Forbes, 80 percent of startup businesses drown within the first 18 months.
So how do you jump in? Feet or head first? In the shallow or deep end? And, if you leap in, how do you stay afloat, let alone swim successfully?
The Johnson County Public Library is here to help. Today marks the launch of Bright Ideas for Business , a blog series for small business owners, managers and entrepreneurs. For the next several weeks, we will bring you tips on running and managing your small business.
Besides advice from local experts, we will share the tremendous small business resources available at the five JCPL branches - including our virtual branch, PageAfterPage.org.
For our first water survival lesson, we reached out to two strong business swimmers in Johnson County - Brent Tilson of Tilson HR in Greenwood and Erin Smith of Spotlight Strategies in Franklin.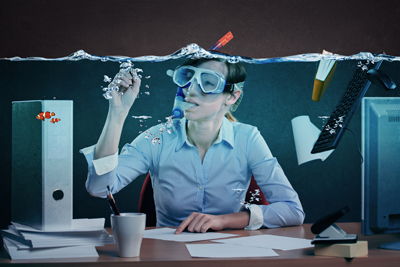 Bright Ideas for Business is an information sharing program of the following community partners:
Johnson County Public Library
Johnson County Development Corporation
Franklin Chamber of Commerce
Greater Greenwood Chamber
Discover Downtown Franklin
City of Franklin
Visit the Bright Ideas for Business section on PageAfterPage.org.

Tilson founded his company in 1995, and it has become one of the leading human resources outsourcing firms in North America. Both he and the firm have received numerous awards and recognition.
Smith co-founded Spotlight Strategies with business partner Susan McCarty in 2011. They specialize in company branding and imaging products. She, too, has been highly recognized as a small business owner and is a sought-after business speaker.
Here's the advice they share about taking the plunge into entrepreneurialism:
ERIN
Know yourself. Take a personal inventory of the skills you are really great at and the ones you aren't. Scaling your business will require you to find people smarter than you who are great at the skills you lack. Get ready to humble yourself.
Have a written plan and then commit to working the plan. This road map is essential to success. Every day will bring new opportunities and challenges. Your plan will help you decide which ones to engage and which to pass on.
Line up your mentors. Starting and growing a business requires a lot of brainpower and passion. You bring the passion and mentors guide you by allowing you to bounce ideas off of them, asking questions that make you think differently and cheering you on when you get stuck.
I have found that heeding these three steps before embarking on a new business opportunity or making a big change in my existing business has proven to be extremely valuable.
BRENT
Challenge your idea. For prospective entrepreneurs, I like to challenge you and discover why you want to start a business. Are you "tired' of working for someone else and believe running your own business will be the answer to your problems?
Have a grasp on the concept. Have you written a business plan and have a strong grasp of the challenge ahead of you? Do you know the market capacity and demand for your products or services? Is your company a disruptive technology or service that will attract customers, or will you be a lower cost option? Often times, new entrepreneurs have not fully vetted their business plan and strategy for their business.
Go slow to go fast. You should put a lot of time into the research and planning for your new business venture. Once you have a full plan and have thought through the many variables that will impact your business, you are on much better footing to take the entrepreneurial leap.
Erin and Brent also mentioned the importance of adequate funding. Forbes contributing editor Eric Wagner notes that successful startup businesses are moving swiftly without burning lots of cash.
"I recommend that you raise or secure twice as much money as they think it will take to start the business. Cash is the oxygen for a business and new businesses burn through cash quickly until revenues grow and become sustainable," says Tilson.