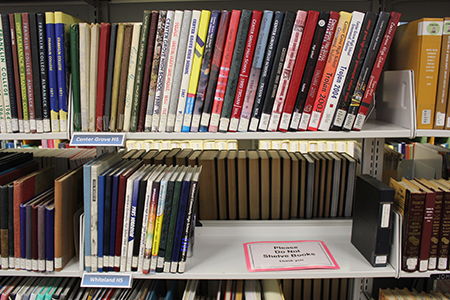 High school yearbooks and newspapers on microfilm are an irreplaceable historic treasure. If lost or damaged, this data will be lost forever. JCPL works hard to preserve this information in our Historical Room. Now, we have an option available to us that is provided at no cost to the taxpayers.
Oklahoma Correctional Industries, better known as OCI, offers a special service called Yearbook Project. This service allows high schools and libraries to have their yearbooks scanned and processed at no cost. Scanning books is a way to preserve them and keep them safe while offering patrons the ease of searching in a digitized format.
OCI uses a special-purpose book scanner with the latest software technology to safely convert books to a digital format on DVD. The yearbooks are scanned in color at 300 DPI and saved in .jpeg format, which is considered publisher quality. Books are scanned in such a manner that does not require their unbinding or alteration. This works especially well for older books of great value.
The images are not used by OCI in any manner not consistent with their original intended purpose as a yearbook material, or in a way that may be deemed as disrespectful to persons within. OCI complies with any and all federal copyright laws and regulations.
While this certainly insures that our county's heritage is preserved for our children, we are also giving 1,200 inmates valuable job skill training and reducing offender idleness. Oklahoma Correctional Industries utilizes inmates who work for the private sector in 16 partnerships. OCI produces over 5,000 products ranging from furniture to correctional steel products. OCI reduced offender idleness by producing over 1.6 million offender work hours.
The Historical Room offers a collection of yearbooks from almost every high school in the county. We do not have a complete collection but we work with local high schools to do our best to get a yearbook from every year for our digitization project. We recently had our collection of Daily Journal newspapers digitized. Our patrons learn about the benefits of digitization every day. The ease of browsing for articles and information is an asset that went well beyond what our expectations were. Let us, therefore, gather up our heritage and offer it to our children.