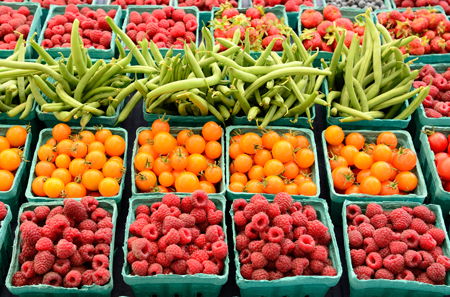 Summer is a great time to visit farmers markets and try new foods. There are several farmers markets across Johnson County where you can browse and purchase locally grown foods, baked goods and even flowers and crafts. Some have music and other entertainment to enjoy while you are shopping.
Taylor's Farm Market in Whiteland is a must visit for the freshest produce. The Greenwood Farmers Market and the Franklin Farmers Market offer a wide variety of foods and handmade items. You can even get treats for your pets. Don't forget to stop by the library's booth at the Franklin Farmers Market on July 9, Aug. 13 and Sept. 3.
Or, if you are like me and not a fan of cooking, restaurants that use local produce can cook up Indiana grown meals for you. Eating farm-to-table is not only delicious and healthy, but it supports the community and the environment. Revery and Vino Villa in Greenwood and Taxman in Bargersville all offer locally sourced options and seasonal menus.
Johnson County has a vibrant agriculture economy, and many farms are open to visit and have market stalls. There is a list of them here and also a handy map here (subscription required). Aspire Johnson County even sponsors an Agriculture Passport. If you visit 10 family farms you receive a lovely ornament. Apples, eggs, popcorn and wine are all available to purchase and there are lots of animals to see. What a great day it would be to visit a few farms, buy all your ingredients and then head home to create a meal.
For ideas on how to prepare your purchases, your library has cookbooks galore. A few to try:
The Harvest Eating Cookbook: More Than 200 Recipes for Cooking with Seasonal Local Ingredients
Local Flavors: Cooking and Eating from America's Farmers' Markets
Farm to Fork: Cooking Local, Cooking Fresh
America farm-to-table: Simple, Delicious Recipes Celebrating Local Farmers
And remember, you can read a variety of cooking magazines for free at the library or from the Zinio for Libraries app!
---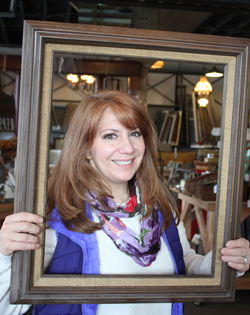 Amy is a librarian at the White River Branch. At heart, she is an adventuress who loves to try and learn new things with family and friends…even if she ends up an epic failure. Having fun while doing good for others makes for the best adventures. So look for Amy shopping at thrift stores, running for a cause or eating and drinking at fundraisers!
Join the conversation at amy@jcplin.org
Sign Up to Receive 'Now You Know'