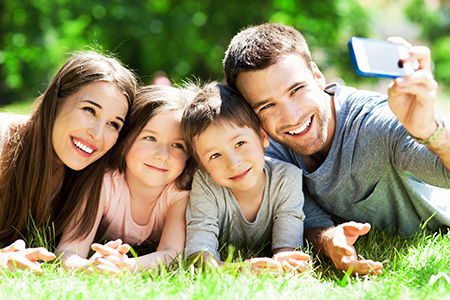 The invention of camera phones has made all of us into avid amateur photographers. Whether we're snapping photos of friends, families, our dinner or just of ourselves on a good hair day, most of us are generating new photos all the time. (Just to get an idea how many: there are 300 million photos uploaded to Facebook alone every day.)
But what do you do with all these pictures? It's easy to get overwhelmed by virtual shoeboxes full of old vacation snaps. (Do you really need two dozen photos of Mount Rushmore?) It's great to keep a library of photos on your phone so you can show strangers your adorable nephew, but before you run out of storage space, you're going to want a strategy to export and organize all those pictures.
Step 1: Export
There's basically two different ways to get your photos backed up: upload-as-you-go, or bulk export.
Upload As You Go
There are a number of apps you can use to automatically upload photos from your phone or tablet to the cloud storage service of your choice. After you've taken one or more photos, you just have to open the appropriate app and the upload will begin. Dropbox, Google Photos and iCloud Photo Stream offer this service.

All at Once
You can connect your device to a computer with a USB cable, then use the photo management software of your choice to move them from phone to computer in one go. You can also choose to automatically delete the photos from your device when the export is done.
Step 2: Organize
Now that your photos are on your computer, you'll find it much easier to get your pictures organized and safely backed up.
Both Windows and MacOS come with pre-installed software to help you manage your library of photos. (Both are called "Photos," creatively enough.) These programs have become pretty sophisticated at helping you group photos together by date, location and even the people included.
If you need more options, there are a number of free alternatives out there. The most popular is probably Google Photos (formerly known as Picasa.) This pulls double duty as a photo manager and editor, letting you do basic adjustments to color, exposure and more. Google Photos works best with the smartphone app of the same name, and also integrates well with Google Drive, the cloud storage service.
If you need more powerful image-editing tools, but don't want to splurge on Photoshop, try the GNU Image Manipulation Program (GIMP), a free open-source image editor that's available for PC, Mac and Linux.
Step 3: Backup
People used to look for cherished photo albums during floods and house fires. Thankfully in the digital age, everyone can get to safety quicker and reprint the photos – if you have an off-site backup somewhere. You can safeguard against natural disaster or just a failing hard drive by keeping copies of your digital photographs (and other irreplaceable documents) in an off-site storage service. Cloud storage services like Dropbox or Google Drive are great if you want to pick and choose what to upload. If you want to securely back up absolutely everything on your computer, a cloud backup service like CrashPlan offers as much peace of mind as you can realistically expect in the digital age.
With your photos safely organized and backed up, you can spend more time enjoying them – and taking more. Happy snapping!
Want to learn more? Check out these library resources:
Discover Digital Photography - This online course will cover the basics of digital photography, including taking pictures, editing, display and backup. (No charge with your JCPL card.)

The Great Courses: National Geographic Masters of Photography - Goes inside the creative process of the industry's most sought-after photographers as they reveal their working methods, from the planning stages of an assignment through the execution. (Watch free on Hoopla with your library card.)
Digital Photography for Dummies - Packed with tips, advice, and insight you won't find in your camera's manual, this friendly guide quickly gets you up to speed on proven photography techniques to help your digital pictures say more than a thousand words!
---

Davin is the Virtual Branch Manager at JCPL. He may own more electronic gadgets than he cares to admit, but he's an old school librarian at heart. Davin believes technology should make life easier, not more complicated. Connecting patrons with the tools that can help them get more done, learn more and have more fun is his passion.
Join the conversation at davin@jcplin.org.
Sign Up to Receive 'Now You Know'