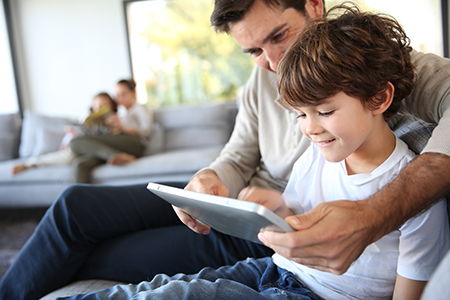 Anyone who's seen a 2-year-old pick up a tablet and jump straight to their favorite YouTube videos might think children are born with a device in their hands. While it's true that many young people are far more comfortable with current technology than their parents or grandparents, children of all ages still need guidance, practice and oversight from caregivers and educators to make sure they're learning how to use technology safely and responsibly. You don't have to be an expert to help the children in your life - here are a few easy ways you can do just that:
Teach them to code
"Teach kids to code" has been so buzzy in recent years that it's become a sort-of cliché, but the internet is such a part of our lives that almost anyone would benefit from some grounding in programming and/or web design. I think of it like car ownership – few of us can or should replace our own transmissions, but it's nice to be able to change your own oil, and to know a little bit when you take your car to the shop. Sites like Codecademy and Hour of Code offer free, fun online learning for learners of all levels.
Get them hands-on experience
There are plenty of fun, educational ways to engage with technology that don't require staring at a screen. Many modern STEAM-based toys and activity kits will teach kids the basics of scientific inquiry, programming and engineering in a fun environment. Check out JCPL's Library Guide for upcoming STEAM programming that will let your children try many of these activities and tools for free. Many schools also offer Robotics Clubs or other STEAM-related extracurriculars.
Learn with them
You may think your own lack of familiarity with technology prevents you from helping the children in your life learn. Not so! Multigenerational learning is a powerful tool, and can help you keep an eye on your kids' development (and their travels on the internet) while you pick up some new skills too. Plus, kids love to teach adults – so ask them to show you something new!