You gotta have heart.
But to start and sustain a small business, you gotta have cash, too.
Entrepreneurs with grand visions of a successful product or service often get hit over the head with a baseball bat when it comes to funding their startup. According to Forbes, 75 percent of small businesses fail because of early cash flow issues.
So, how do you go about getting the money to make your small business ownership dreams come true?
Finding and obtaining funding can be the most difficult phase in starting your business, according to the Johnson Center for Entrepreneurship and Innovation at Indiana University's Kelley School of Business. Basically, there are three options for funding:
Self-Financing

Debt Financing

Equity Financing

Banks and financial institutions fund less than one-half percent of startups while angel investors contribute about 1 percent of the money. Angel investment is growing in the United States, having spent $25.6 billion last year - an increase of nearly 11 percent according to research by the University of New Hampshire.
Most times, entrepreneurs push all the chips to the center of the table. It's called Bootstrapping. That usually means, on average, putting $70,000 cash up front and mortgaging your home and other assets.
There are creative ways to keep your business finances strong. Entrepreneurs have been known to barter their products and services with customers who can offer something in return. Also, you can create a strategic partnership agreement with an existing company that can provide you an infusion of cash to pay the early bills.
Banks might lend you money, but they usually don't come on board until the second or third year of operation -- when you can prove your services or products have traction in the marketplace.
Mike Crumbo, branch manager of SCORE Consulting in Greenwood, says that banks want to see tangible assets used for collateral. SCORE's volunteers help small businesses develop business plans and find funding opportunities.
Crumbo says SCORE can help you navigate the process for loans, including from the Small Business Administration.
"A bank or investor - usually sooner than later -- wants you to show them the money. To convince them to back your great idea for a new service or product, you need to have a plan," Crumbo said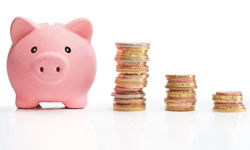 The Johnson County Public Library's Small Business Resource Center offers a lot of terrific sample Business Plans.
Library card login is required.
Johnson Center for Entrepreneurism and Innovation
Kelley School of Business, Indiana University
Recommended Links
Small Business Information: Financing Your Business - Understand all capital financing for your small business.
Accel Partners: Venture Capital - Resources for entrepreneurs and a master list of links to private equity sources.
National Venture Capital Association - Venture capital trade association. Overview of the venture capital industry and the latest statistics on investment activities.
Small Business Innovation Research Program - Government grants available to entrepreneurs for the purpose of technological innovations that are of interest to Federal Government agencies.
Garage.com - A venture capital investment bank that provides funding services for high tech start-ups.
About SCORE
SCORE provides confidential, business advice from expert advisers committed to helping small businesses succeed. Last year, SCORE helped create more than 56,000 new businesses and helped more than 107,000 businesses increase revenue. SCORE has a branch in Greenwood.
SCORE of Johnson County
Greater Greenwood Chamber of Commerce
65 Airport Parkway, Suite 140
Greenwood, IN 46143
317-886-8601
Small Business Financing Information
SCORE's business mentors say the biggest mistake people make when obtaining finances for their business is they "undershoot" the amount needed.
"It's human nature to underestimate the needs your business will need," says Crumbo. "Planning plays a huge role in getting your business finance. Ensuring you have the necessary steps in place allows you to be a more desired candidate to lenders is key."
Below are three key areas that lenders look for before financing your business, according to SCORE.
Clear Evidence
Lenders want to see clear evidence that your business concept is feasible. Lenders look at hundreds of business plans throughout the year. It is very important to have solid evidence to show to lenders that you understand your business and the financing it needs to get started and to sustain.
Lenders are looking to see if your business idea meets a market need and if it can sustain in the marketplace. Developing a comprehensive business plan is the key to providing clear evidence.
Credibility
SCORE says lenders recognize that small business is betting on the individual and not the plan. The credibility of a person and the experience they have is a huge factor. Being able to show that you have experience in the business you want to open can carry a lot of weight.
Personal Finances
Being able to show lenders that you have money management skills can go a long way when you are asking for finances. Having a low credit score or undesirable credit issues, might be a deterrent, according to SCORE. Obtaining finances for your business often times depends on: character, capacity and potential cash flow.
IU's Kelley School of Business puts it simply: "The key is to know your business and how it can best be financed. Make sure you do not rush into anything and spend a lot of money before you fully understand what is going on."
Bright Ideas for Business is an information sharing program of the following community partners:
Johnson County Public Library
Johnson County Development Corporation
Franklin Chamber of Commerce
Greater Greenwood Chamber
Discover Downtown Franklin
City of Franklin
Visit the Bright Ideas for Business section on PageAfterPage.org.