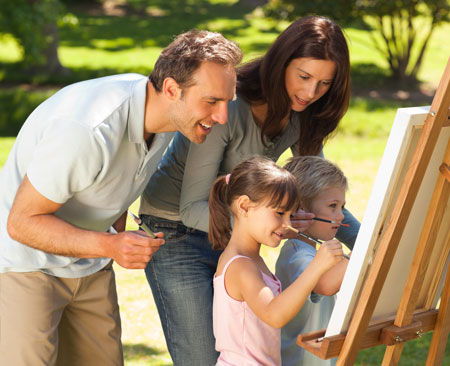 Everyone needs a creative outlet, whether it's an art or a craft. While it can be relaxing to work on projects by yourself it's also fun to make things in a group. It's a great way to connect with friends or family and to meet new friends. There are many places in Greenwood to work on projects or to learn a new skill and make something in a fun setting.
All four Johnson County Library Branches offer arts and crafts programming for free or a minimal cost. Everything from wreath making, jewelry, painting, fiber arts and more are taught at the library in a very relaxed atmosphere. Most branches even offer coloring! Talk about relaxing... Check the events calendar to register. Is there anything you would like to see presented at the library? Let me know! Not everything is possible, but suggestions are always welcome.
If you want to try your hand at painting, several art studios offer events with refreshments. Wine and Canvas, Teal Canary, Craft +Cork and Art of Kira all offer canvas painting parties at their studios and local venues. These events are perfect for absolute beginners as the paintings are taught step by step and each technique is fully explained. The classes are not too large, and people are there to have a good time so they are great outlets for meeting new people. Some places let you submit photos ahead of time and they prepare a canvas so you can paint a personalized portrait. All of these studios offer events for kids too.
Or, make something useful by painting on pottery at uPaint or You Are The Potter. Register for a class, or just drop in during open hours and pick out a piece to paint. It will be glazed and fired and then you can come and pick it up after a week. Pottery painting is a wonderful activity to do with all ages. Even babies can make hand or foot prints! Wouldn't a set of plates painted by family members be an amazing keepsake? Create memories as well as art.
Fabric stores do more than just sell supplies, they have classes on all types of arts and crafts. Jo Ann Fabrics even has cake decorating! Michaels has fiber arts and paper crafts, as well as jewelry and more. More advanced fiberistas would enjoy classes and knit-a-longs at Starstruck Cat. These classes are wonderful for learning more complicated techniques and sometimes offer several sessions and higher-level classes to build on your skills.
Interested in learning how to use power tools, making furniture and more? Madison Street Salvage in Franklin is offering monthly workshops. All materials are provided. Just check out that stunning farm table! Your pieces will be unique, as the materials are upcycled, vintage items. You will be sure to see me at one of these!
Don't forget, the library also lends books on every type of art and craft you can think of. Pick up patterns and project books galore for all ages and skill levels. Some of my favorites offer upcycled projects to use up and repurpose items instead of throwing stuff away.
Cool Odds and Ends Projects: Creative Ways to Upcycle Your Trash into Treasure
Fabulous Jewelry from Found Objects: Creative Projects, Simple Techniques
Learn to Paint in Acrylics with 50 Small paintings
Knitless: 50 No-knit, Stash-busting Yarn Projects
Feel free to comment with your favorite projects!
---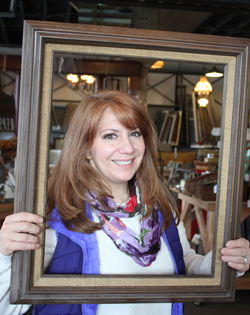 Amy is a librarian at the White River Branch. At heart, she is an adventuress who loves to try and learn new things with family and friends…even if she ends up an epic failure. Having fun while doing good for others makes for the best adventures. So look for Amy shopping at thrift stores, running for a cause or eating and drinking at fundraisers!
Join the conversation at amy@jcplin.org
Sign Up to Receive 'Now You Know'