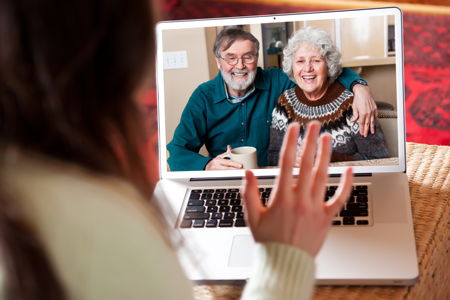 Let's take a quick look at the future we were promised: Jetpacks? Not yet. Self-driving cars? Soon. Videophones? You bet! It's easier (and cheaper) than ever to stay in touch with friends and family all-around the world, but the choices can be a little confusing. This week we'll cover some of the more popular messaging platforms you can get on your computer and mobile devices and talk about why you might (or might not) want to use each one.
Skype has become so popular and ubiquitous since its launch over 10 years ago that it's practically become a verb, like "Google." Microsoft purchased the service in 2011 and has progressively integrated it into new versions of Windows.
Pros:
You probably already have it. If you've bought a Windows PC in the last several years, Skype may already be installed. (If it's not, it's a free download.) Set up your free account and you're ready to Skype. It's also available as a free app for most mobile devices.

It's versatile. Skype is probably best known for video calls, but it's also an instant messaging platform.

Cons:
It's not completely free. Video calls and messages to another Skype account are free. If you want to use your Skype account to call a landline or cellphone number, you'll pay a small per-minute charge.

Speaking of popular and ubiquitous – Facebook has now become a standard communication tool for many, if not most, internet users. Messenger, their chat service, has reached 1 billion users in just five years.
Pros:
Cons:
You'll need (another) app. Although Messenger is still pretty tightly integrated with the Facebook you use on your desktop or laptop web browser, in 2014 Facebook took the controversial step of separating Messenger from the Facebook mobile app, requiring users to download a separate (still free) app. Everyone complained, but usage doubled in six months.

It's not as well-known as the first two options, but Google has offered their own video messaging service for a number of years, and while it doesn't do a lot that competitors like Skype can't, chances are you already have a Google account.
Pros:
You can use your Google account. You probably have a Google account for Gmail, Google Calendar or one of their many other useful products. You can use that same account for Hangouts, and even use your existing contacts.

Group chats are easy. Most video chat services offer group chats now, but I think Google does it best. I've even participated in book clubs that used Google Hangouts.

Cons:
Google likes to mess with stuff. Google is not shy about changing or even abandoning products and services that it no longer identifies as a strategic fit with its other initiatives. If you rely on Hangouts to keep in touch with your friends and family, be aware it could change drastically or be retired at any time.

---

Davin is the Virtual Branch Manager at JCPL. He may own more electronic gadgets than he cares to admit, but he's an old school librarian at heart. Davin believes technology should make life easier, not more complicated. Connecting patrons with the tools that can help them get more done, learn more and have more fun is his passion.

Join the conversation at davin@jcplin.org.
Sign Up to Receive 'Now You Know'