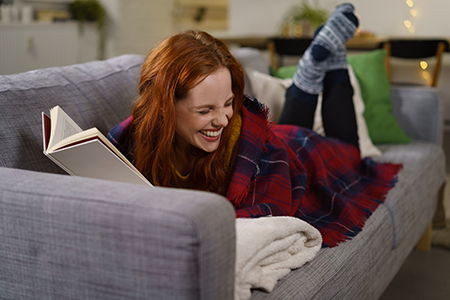 Whether they're doing stand-up, starring in TV shows or acting in comedies, these authors know how to be funny on and off stage. Their candid memoirs are poignant, funny and at times very heartfelt and moving. Sometimes it's nice to take a break from our usual book routine to read something that we know will make us laugh. These comedian memoirs are guaranteed to take a load off as you laugh away your stress and worries. For an added treat, listen to the audiobook versions, which are narrated by the comedians themselves and guaranteed to give you some extra laughs.
"Born a Crime: Stories From a South African Childhood" by Trevor Noah
Comedian and Daily Show host, Trevor Noah's memoir is hilarious, as well as eye-opening and a little horrifying. Born during South Africa's apartheid, Trevor grew up in a hellish environment that most aren't even familiar with. Despite many troubling experiences, he made the most out of his childhood and always found a way to make light of the situation. Inspiring, funny and enlightening.
"Bossypants" by Tina Fey
Part memoir, part essay, part humorous anecdotes; Tina Fey regales readers with stories of growing up, her father, her heritage, working at Saturday Night Live, her honeymoon, being a mother, "30 Rock" and Sarah Palin. Even though it's funny, Tina also does a great job of tackling serious issues such as sexism, politics, motherhood and more. She's not just funny, she's got brains too!!
"Calypso" by David Sedaris
Veteran humor essayist, David Sedaris, returns with his most personal, hysterical and irreverent book yet. His short essays spanned from the seriousness of his sister's suicide and mother's alcoholism to a deformed boxed turtle and shopping for "unique items" in Japan. His family is uproarious and odd and readers will wish they had a gem like David in their family.
"Is Everyone Hanging Out Without Me? (And Other Concerns)" by Mindy Kaling
Kaling is one of those Hollywood starlets you could actually imagine having as a friend. She's down to earth, hilarious, shockingly normal and has the zaniest sense of humor ever. This book is made up of short little essays about growing up a chubby Indian child, friends, college, favorite comedians, relationships and of course, "The Office." It's got a little something in it for everyone.
"Let's Pretend This Never Happened: A Mostly True Memoir" by Jenny Lawson
Jenny Lawson's outrageous wit and humor sparkle in every story. I found myself laughing out loud, looking up weird taxidermy and checking out her blog. She is truly one of a kind. Not many people can retell ridiculous, horrible and scarring incidents from their life with such poise, grace and hilarity. She bares it all and manages to transform traumatizing stories into hilarious, stronger than ever triumphs.
"Modern Romance" by Aziz Ansari
Even though this is nonfiction, "Modern Romance" is also straight up comedy gold. "Modern Romance" is exactly what the title implies, it's all about love, dating and relationships in the modern era. It's not all conjecture though, "Parks and Rec" star Aziz Ansari, consults top researchers in a variety of fields to provide statistical analysis, charts and graphs. He also conducted tons of focus groups to see how people today view romance in the age of technology. There are some interesting new trends on how we meet soul mates, judge potential candidates and view love now that we have access to a wide variety of dating apps, social media and expanded friend groups.
"Yes Please" by Amy Poehler
Hilarious, raw, honest, insightful, intriguing and beguiling. Amy discusses her childhood, how she fell in love with improv, Saturday Night Live, Tina Fey, her marriage, children and pregnancy, and of course, "Parks and Rec." She put a lot of hard work into getting where she is today and it was interesting to learn how she started on that journey, and fun it was. Full of poems, lists, pictures and more.
"My Life as a Goddess: A Memoir through (Un)Popular Culture" by Guy Branum
Part memoir, part humor, part history and pop culture lesson; this memoir is unique and entirely fun to read. The stories I enjoyed the most were the ones where Guy is rehashing his youth growing up in a quasi-Jewish home in the redneck hills of California as a giant gay child. It's humorous, real, raw at parts, but he never loses levity. Another great celebrity memoir by someone you may or may not have heard of, but are certainly glad you did by the end of the book.