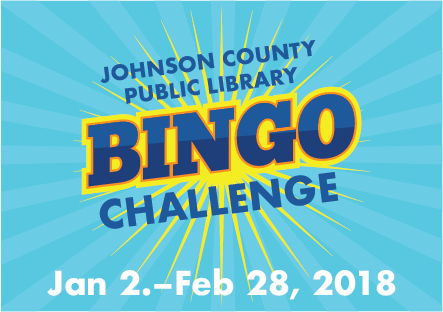 Winter at JCPL is anything but boring! Inside our doors we offer classes to try new hobbies, Storytimes for the kids, Book Clubs, board games, and don't forget the thousands and thousands of books, movies and audiobooks. We interviewed JCPL Adult Materials Selector and Library Bingo Challenge Committee leader Karen Emery about the Library Bingo Challenge.
Johnson County Public Library: What is the Library Bingo Challenge?
Karen Emery: Library Bingo Challenge is a fun way for individuals and families to explore all that JCPL has to offer while also earning chances to win prizes.
JCPL: When and where does the Library Bingo Challenge take place?
KE: Library Bingo Challenge begins Jan. 2, 2018 and runs through Feb. 28, 2018 at all JCPL branches.
JCPL: How does it work?
KE: Individuals or families who wish to sign up for Library Bingo Challenge should stop by the reference desk at their favorite JCPL branch starting Jan. 2, 2018. Once you receive your bingo sheet have fun exploring the various resources available at JCPL. Mark each square completed with an "x" and when you have completed a bingo bring the sheet to the reference desk.
JCPL: Does it cost to participate?
KE: There is no cost to participate in the program.
JCPL: Why should people participate?
KE: It's a fun way for individuals and families to learn about library resources they may not be aware of and perhaps explore one or two or three different branches they normally do not visit. And don't forget the prizes!
JCPL: What kind of prizes can participants receive?
KE: When signing up each participant is entered into a drawing for a $75 Barnes & Noble gift card. Upon completion of one bingo everyone receives a JCPL tote bag, a snack and an optional entry into a drawing for an Access Bus pass. Additional bingos net a chance to win a family membership to an Indiana museum. The winner will choose the museum of their choice. Popular picks in previous years include the Indianapolis Children's Museum and the Indianapolis Zoo.
JCPL: How did the library get the idea for the Library Bingo Challenge?
KE: Our Staff Wellness Committee ran a bingo challenge for JCPL staff members highlighting different activities to improve our overall health and a bright idea was born. We'll create a bingo challenge for our patrons and generate some excitement during the cold and dreary winter months.
JCPL: What's your favorite part of the Library Bingo Challenge?
KE: As one of the lucky members of staff that gets to select and order library materials, I love helping to answer the influx of "Find Your Next Book" requests we receive during the program. There is nothing I love more than helping our patrons find their next great read.