Beatles vs. Stones. Coke vs. Pepsi. Cubs vs. Cardinals.
Throughout recent history there have been many great cultural rivalries that require you to choose a side and defend it to the death. (The correct answers to the above, by the way, are Beatles, Coke, and Cubs.)
But until recently, if you worked in business, there was only one choice when it came to your computing needs. The PC was the domain of the serious adult businessperson, and the Mac was only an option for college students, graphic artists, and the type of person who wears Birkenstocks to work. (Don't worry, those of us in business casual are just jealous.)
All that changed about eight years ago when Steve Jobs stepped on stage in San Francisco and introduced the iPhone, ushering in the smartphone era. Suddenly you could carry around a powerful mobile computer in your pocket, and with the introduction of the App Store a year later, the business and productivity options exploded.
Of course you could use an iPhone and still keep a PC on your desktop, but many users found Apple's "it just works" mobile experience so rewarding that iMacs and MacBook's became serious contenders for serious business.
First off, let's get one obvious thing out of the way. There is no magic technological bullet that is going to turn you into the Michael Jordan of productivity. Many of the most powerful, useful online work tools - we're talking about Dropbox, Evernote, and so on - are designed to work on as many platforms as possible, including Mac, PC, iOS, and Android. The computer you choose is not going to make or break your career or your business. But making smart choices about the tools you use, and making sure they fit your personal work style, can go a long way to streamlining your workflow and ensuring you spend more time doing work that matters instead of wrestling with unruly technology.
Here are some factors to consider when choosing Mac vs. PC:
Size of your organization
PCs are still the king of enterprise with good reason. If you need to quickly and efficiently deploy updates or security fixes to a large number of computers, your IT department will vote for a Windows environment. If your company consists of you and your brother-in-law working out of your garage, this is less of a concern.
The kind of work you do
If creative work - publishing, graphic design, video, etc. - is a crucial part of your organization's day-to-day, Mac is still the undisputed leader. Some of this is cultural; it's entirely possible to do all of the above on an adequately equipped PC. But if you're planning on recruiting the best and the brightest creative minds for your company, keep in mind they're going to be Mac natives.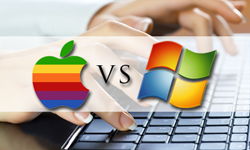 Check Out These Online Resources at the Johnson County Public Library
AtoZdatabases
Find a job, business, person or create mailing lists & sales leads. AtoZdatabases is an essential tool for your marketing campaign, helping you reach new movers and homeowners, as well as consumers by location, income, home value and interest.
Access
Business Source Complete
Contains full text from the world's top business journals and is particularly strong in both management and marketing. Provided by INSPIRE.
Access
EBSCO Management Collection
Provides access to news and articles on topics in business, banking, law, finance, management, advertising, human resources and more. Provided by INSPIRE.
Access
International Directory of Company Histories
Provides histories of companies that are a leading influence in a particular industry or geographic location.
Access
Regional Business News
Provides comprehensive full text for regional U.S. business publications covering business, politics, and economics. Provided by INSPIRE.
Access
Small Business Reference Center
This database offers exclusive full text for many top consumer small business reference books, as well as the necessary tools and instructions to address a wide-range of small business topics. In addition, it provides business videos, a help and advice section, and information on how to create business plans. Provided by INSPIRE.
Access
Value Line
This is your gateway to a powerful investment resource. Value Line provides access to a vault of investment research, approximately 3,500 stocks, data, expert analysis, and unbiased commentary with a time-tested and performance-proven Ranking System. It includes the The Value Line Investment Survey®— Small & Mid-Cap. Please be aware that there is a limit of four (4) simultaneous users.
Access
The mobile devices you use
Apple made the wise business decision to make their iOS family of devices (iPhone & iPad) interoperable with PCs. You can sync, backup, and access iCloud data on a Dell, Lenovo, or any other PC. Apple also made the wise decision to enhance the user experience for those who keep it in the family by using a Mac with their iPhone and iPad. iCloud keeps track of the tabs you have open on Safari (the built-in Apple web browser) across all your Apple devices, so if you start reading an article on your phone, you can resume on your Mac, without having to email yourself or write down a link. The newest versions of the Apple operating systems include a nifty feature called Handoff, which lets you instantly transfer work in progress in a number of programs from iPhone to iPad to Mac and back again.
The best of both worlds?
There's no reason you can't be bilingual. If your day job requires you use a PC, but you're drawn to Apple, a MacBook might be a good investment for taking on the go. You may have to jump through some small hoops to make sure your work is accessible on both systems, but you'll also gain the advantages that come from having both options, and being able to speak either language.
Stay tuned next week when we'll talk about some of the most powerful productivity apps available for your smartphone and other mobile devices.
Bright Ideas for Business is an information sharing program of the following community partners:
Johnson County Public Library
Johnson County Development Corporation
Franklin Chamber of Commerce
Greater Greenwood Chamber
Discover Downtown Franklin
City of Franklin
Visit the Bright Ideas for Business section on PageAfterPage.org.