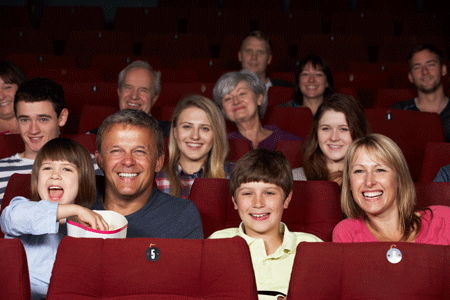 We all seem to have easy access to movies these days. Streaming services like Netflix, Redbox rentals and many other services bring movies into our homes. The library has DVDs to check out, and you can put the latest movies on reserve even before the DVDs are released. You can stream movies using Hoopla by borrowing them with your library card. Whether you have a fancy media room set up, or a comfy couch and a big, old tube TV, there are ways to make the movies more special.
For stay at home viewing, try a theme night. Serve food that matches your film choice, and dress up, decorate and play games. I like to do this when I'm sharing an old favorite movie with my son, or with friends who haven't seen it, or for an annual viewing party for a holiday movie or a classic. This is a fun and inexpensive way to make a regular weekend night into an event. Pinterest has ideas for almost every theme you can think of! From classics like "The Wizard of Oz" or "A Christmas Story" to international recipes and more, you can find ideas for spicing up your watching. Even if you are watching the latest "Jason Bourne," you can find recipes from the movie's locations. Check out all the ideas for having fun watching "Spy Kids" or this bloggers ideas for all kinds of Disney movie nights.
Or, get out of the house and hit the theater. With a little work, there are free films and discounts to be found, other than the discount theater. Check for free passes to advance screenings on Facebook and Twitter. The Owens Group posts links to passes for theaters across the Midwest. Advance Screenings lists opportunities for passes on their website and Twitter account. These screenings are usually on week nights and are first come/first served, even with passes. Sometimes you get promotional swag, so arrive early.
Most theaters offer summer movie programs for families. For the past few summers, Regal Cinemas, Studio Movie Grill and Canary Creek in Franklin have had free or $1.00 weekly family movies. For only $5.00, you can have breakfast and a movie at Cereal Cinema at the Indianapolis Museum of Art. And, of course your library has free movie showings for families and adults all year-round!
Splurge on date night and hit up an AMC theater or the Landmark Arts and have cocktails with your film. At Flix Brewhouse in Carmel or Studio Movie Grill, combine dinner and a movie while you enjoy a whole meal.
Movie theaters show more than just movies, too! Opera, ballet and theater performances, concert films, comedy and sports events screen at local theaters. Love Benedict Cumberbatch but can't get to New York City? You can watch it at your theater. Some of the events offer promotional items or special guests. This is a great way to experience performances from the best seat in the house on the big screen.
And last but not least, experience a movie at the Artcraft Theatre in Franklin. This historic theater offers a lovely setting to watch classic films, and there is fun to be had with a variety of traditions including cartoons before the feature, drawings for "fabulous" prizes and more. DJ's Sweet Retreat often sells themed decorated cookies that are miniature works of art.
So sit back, relax and enjoy the show!
---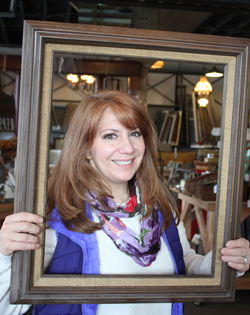 Amy is a librarian at the White River Branch. At heart, she is an adventuress who loves to try and learn new things with family and friends…even if she ends up an epic failure. Having fun while doing good for others makes for the best adventures. So look for Amy shopping at thrift stores, running for a cause or eating and drinking at fundraisers!
Join the conversation at amy@jcplin.org
Sign Up to Receive 'Now You Know'