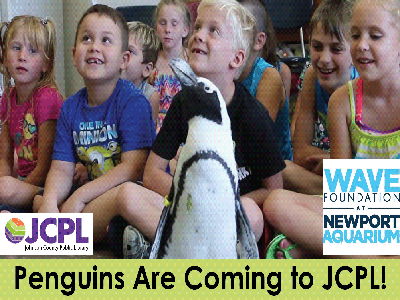 Penguins are waddling into your library Saturday! Our 1,000 Books Before Kindergarten kick-off celebration continues as a penguin from the Newport Aquarium visits a branch near you.

Saturday, August 26
11 a.m. at the Trafalgar Branch
1 p.m. at the Franklin Branch
3 p.m. at the Clark Pleasant Branch
Learn about penguins and sign up for 1,000 Books Before Kindergarten!

What is 1,000 Books Before Kindergarten?
1,000 Books Before Kindergarten is a library program that encourages all families and caregivers to read at least 1,000 books (any book) to their infant, toddler and/or preschooler before entering kindergarten.
Why should your family participate?
Experts agree that one of the best ways to give a child an early love of learning is to read to and with them in infancy and through early childhood. We couldn't agree more! Early readers often become life-long readers – our favorite kind of reader.
Who can participate?
Any child, ages birth-5 can participate.
How do we get started?
Register at any JCPL Branch starting August 19 and receive a free 1,000 Books Before Kindergarten Reading Log.
How does the program work?
• Every Book Counts - new books, same books or storytime books. All books count!
• Track Your Reading - each time you read a book with your child, record it in the reading log.
• Show Us Your Reading Log - each time you and your child reach a milestone, bring in your reading log and collect your prize. Read 1,000 books before kindergarten and your child will receive a free book of their very own.
What are the prizes?
200 books read – finger puppets
400 books read – Playdough and cookie cutter set
600 books read – foam alphabet or number puzzle
800 books read – workbook and crayons
1,000 books read – book and library recognition
Stickers will be awarded for every 100 books read