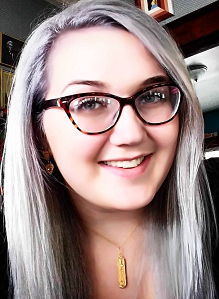 Erin Cataldi is a teen and adult reference librarian at our Clark Pleasant Branch. She is involved in five book clubs and co-leads JCPL's Stout Stories book discussion each month. Erin is one of JCPL's Now You Know bloggers and writes book reviews for SOUTH Magazine, Library Journal and online. She loves helping people find the perfect book. Earlier this year she was highlighted in Kyle Cassidy's book, "This is What a Librarian Looks Like: A Celebration of Libraries, Communities, and Access to Information." Read our interview with the librarian and learn more about Erin!
Johnson County Public Library: How does a person become a librarian?
Erin Cataldi: You have to love the magic that a library has to offer and be willing to cultivate good customer service skills, reading habits and get two college degrees (an undergrad of your own choosing and a masters in library science.)
JCPL: When did you know that you wanted to be a librarian?
EC: I've worked in libraries since I was 13 and have always loved how much a library has to offer to the community besides books. Libraries have always been my home away from home and nearly two decades later, I can't imagine doing anything else.
JCPL: What does being a librarian mean to you?
EC: Being a librarian means supporting the freedom to read. Librarians champion the right to access information for all people, regardless of race, creed, religion, gender or economic standing. Libraries are everyone's free public university and the librarians are the guidance counselors, always ready to help you with whatever path you choose.
JCPL: What's your favorite part of working at JCPL?
EC: My favorite part about working at JCPL is the community. I've met so many wonderful people and they make me LOVE coming to my job every day. I've made so many new friends and connections while running programs, facilitating book clubs and answering reference questions and I can't go to the grocery store, the park, or The Willard without running into at least one library patron. I love that!
JCPL: Why are libraries essential to our community?
EC: Libraries connect people with whatever their looking for; the right book, legal information, creative spaces, tax help, genealogy questions, safe spaces, etc. They are essential community hubs and all services are free for everyone! Not everything you see on the internet is true and librarians can help you sift through all the refuse to help you find exactly what you need and make sure it is a trusted source. As beloved fantasy author Neil Gaiman says, "Google can bring you back 100,000 answers. A librarian can bring you back the right one."
JCPL: What are some unique things you do at your library that maybe aren't done at other libraries?
EC: We always try to think outside the box here, whether it's story walks around the communities, book clubs for inmates at the juvenile detention facility or book discussions for adults at local wineries and breweries (Stout Stories), we're always trying to find ways to meet people in the community. Personally, I'm biased toward Stout Stories since my colleague Keeley Payne and I created and facilitate the monthly book discussion and it's been going on for nearly two years! We never imagined what an impact it would have on us and how much joy we would get out of it. We've made new friends, community partners and created a friendly welcoming space for teachers, state workers, retirees, construction workers and more to get together every month and discuss how books impacted them. I couldn't ask for more out of a library program.
JCPL: Which authors inspire you?
EC: My all time favorite author is Hoosier hero, Kurt Vonnegut (Slaughterhouse 5, Welcome to the Monkeyhouse). Some other favorites include JK Rowling, Ray Bradbury, Matthew Quick and George RR Martin.
JCPL: Do you have any literary inspired tattoos?
EC: I am covered in tattoos, but the literary tattoos I'm most proud of are: the forearm piece that is a Bradbury/Vonnegut mashup and has their portraits as well as iconic book covers ("Fahrenheit 451"), the Dewey decimal number on my wrist for Harry Potter and the death head moth on my ankle from "Silence of the Lambs."