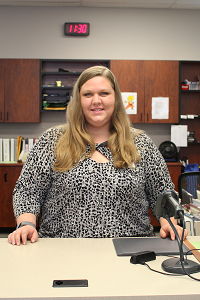 Heather Petro is the Circulation Manager at our Clark Pleasant Branch. Heather oversees the process of checking materials out from the library, and works to ensure excellent customer service for our patrons. Read our interview with Heather and learn about her work with digital inclusion at the library.
Johnson County Public Library: What's your library background? How long have you worked for JCPL?
Heather Petro: I started off working full time in circulation at our Franklin Branch then after about two years I was promoted to Circulation Manager at the Clark Pleasant Branch.
JCPL: What does your typical day look?
HP: The great thing about my job is I don't really have a typical day; each day is different. Some days I spend my entire day at the circulation desk interacting with our patrons. Other days I spend my time researching how to promote digital inclusion in our community.
JCPL: What is digital inclusion?
HP: Digital Inclusion is all about recognizing the areas in your community – rural areas, low-income areas that don't have quality access to the internet and then working toward solutions to provide access to everyone.
JCPL: Tell us about your Chromebooks and hot spots project.
HP: I'm working on a project to expand our popular Pocket Wi-Fi mobile hot spot service across our county. My goal is to provide full internet access to adults through kits that will include a Wi-Fi hot spot, a Chromebook laptop and a list of helpful JCPL resources.
JCPL: How does it work?
HP: JCPL will have 12 kits each with a checkout period of six weeks, which allows for a nice length of time to really benefit from the service. I'm working with our IT department to get the laptops programmed and ready to circulate. Patrons can borrow these kits to learn new computer skills with free online resources like LinkedIn Learning (formerly Lynda.com) and Gale Courses, to practice skills they learn when they use our Book a Librarian services, to complete online employment applications or to even to become more comfortable navigating the internet and the computer in general.
JCPL: How will you collaborate with community organizations to ensure success for your project?
HP: I've been meeting with local organizations to help determine how their organizations are working on digital inclusion and how this project may help them meet their goals to serve the community's needs. We're also discussing how best to get the kits to the people who could most benefit from their use. We're discussing a referral program where partners will refer individuals who need personal computer assistance to the library's Book a Librarian service.
JCPL: Why are you passionate about this project?
HP: I'm passionate about digital inclusion because I've lived in the rural areas of this community my entire life and I know how hard it is when you don't have reliable internet access. Whether you're an adult, a child or a senior, we need internet access to do everything from homework to banking to entertainment.
JCPL: The Clark Pleasant area is expected to increase by 34% in the next 10 years. Do you have plans to expand on this project?
HP: It would be great to provide hotspots to schools so kids without home internet access could borrow the kits for homework or distance learning. We take high-speed internet access for granted, but there are places in our county where reliable internet access is not available. There are also families who cannot afford home internet access. Kids who live in homes without reliable internet access have a learning disadvantage and can fall behind their classmates in school.
JCPL: This September, you became our 11th staff member to participate in Leadership Johnson County. What are you looking forward to learning through this program?
HP: I'm really excited to learn more about how the county works and about local agriculture, economics and business. I hope to have an opportunity to practice my public speaking skills, even though that scares me. I'm looking forward to meeting everyone and making community connections and hearing what other people think about things that interest me, like digital inclusion.