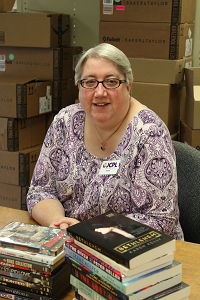 Libraries constantly update and add to the collection of books, movies and music we provide for our communities. We play the role of bookstore, music store and old-school video store, without any rental fees! And, of course, someone has to be in charge of choosing what we put on our shelves. At Johnson County Public Library that someone is Karen Emery, our Adult Materials Selector. Karen is responsible for selecting all of the books, audiobooks, movies and music available in our adult department. We thought it would be fun to give you a behind the scenes look at how the library selects the materials you check out every day.
Johnson County Public Library: How long have you been working at JCPL?
Karen Emery: I've been with JCPL for 25 years. I spent six years in Adult Services at the Franklin Branch, 10 years as the Audiovisual Manager and about nine years now in Collection Services.
JCPL: What does the Adult Materials Selector do?
KE: I choose all of our nonfiction, fiction, large type, audiobooks, DVDs, CDs and e-books for adults. Basically, I come in and I spend money. I get paid to shop! It really is kind of like Christmas everyday. On a typical day, I check my email to catch up on any purchase requests or things that came in overnight from our staff. Then, I go through several industry and publisher's newsletters to see who's been on the talk shows and who is out on book tours. Each week is a little different with different kinds of orders arriving throughout the month. I order adult nonfiction the second week and adult fiction the third week, with audiovisual orders sprinkled between the two. If I'm working on selecting audiovisual materials, I work within the database to order new titles.
JCPL: How do you decide what books, CDs, DVDs, etc. to purchase for the library?
KE: A lot of the selection process is based on previous purchases because things have to prove their worth. Our libraries have limited space, so everything has to justify its space. We do our best to make sure that we choose items that are timely and will be of interest to our patrons so they will be checked out regularly.
JCPL: Do you have any go-to resources when you're selecting books?
KE: Yes, we have a couple of different professional journals that we go to for suggestions. I read four or five library and industry journals. I'm on the library marketing lists at the major publishers to receive newsletters and announcements. I also browse sources like Entertainment Weekly to see what people are talking about, what's creating buzz.
JCPL: How many items do we have?
KE: Right now we have 280,111 print items, 9,023 e-books, 31,678 DVDs, 23,812 physical audiobooks and 7,025 e-audiobooks. That total does not include Hoopla, our digital books, movies and more e-resources, which adds another several hundred thousand items.
JCPL: How many items circulate throughout the year?
KE: Last year our circulation number was just over a million items - 1,048,422.
JCPL: How many items do you buy each year?
KE: Just counting the purchase of materials for the Adult Department, not including purchases for our Children's and Young Adult Departments, we order more than 15,000 items in 2017.
JCPL: How does selecting items work with JCPL's budget?
KE: Our budget is determined by tax dollars from our county library district. Our library board approves how money is allocated to cover purchases from our operating expenditures. We are fortunate to have a well-managed budget. That budget is used to not only order new titles, but also replacement titles for items that have a lot of wear and tear, like children's books or DVDs. We also have budgets and guidelines for purchasing non-traditional items like Launchpads and board games.
JCPL: What kinds of shifts have you experienced as technology has advanced?
KE: Actually, it's been quite interesting. At one time, "they" were screaming the demise of print materials, books when e-books came on the scene. Then DVDs were introduced and the idea is that VHS would be immediately extinct. But, VHS hung around a lot longer than anyone anticipated, particularly in libraries. We stopped buying VHS when studios stopped producing them, but we did not get rid of tapes for probably another four or five years because people still had their VCRs. People purchased DVD players, but they didn't just dump what they had and immediately jump to the next thing. They kept their VCRs and added DVD players to their homes, so they would be buying and borrowing both for some time.
It's sort of the same thing now with CDs. We see the transition from CDs to streaming music, but we still have people who come in and borrow the CDs. So, we will hang on to CDs at the library just because we want to keep those items for those who are slower to adopt new technology and for those who can't afford to jump to latest thing. We're also seeing a slight decline in physical audiobooks because downloading is just growing by leaps and bounds. With more downloadable audios and more companies making that available to the consumer that market has just exploded.
JCPL: Does the library take book requests and recommendations from the community?
KE: Absolutely! Patrons can make a request through the reference staff. Depending on the item requested and how old it is, we will determine if it's best to request to borrow that item via inter-library loan from another library or if we'd like to purchase it to add it to our collection.
JCPL: Who are five authors that you'd recommend to your friends right now?
KE: Right now I'm suggesting Louise Penny, Karin Slaughter, Donna Andrews, Jayne Ann Krentz and Dick & Felix Francis (Dick is actually deceased and his son, Felix has taken over writing his mystery series.) These are some of my absolute favorites.
JCPL: What trends have you seen over the years?
KE: Over the years, there have been the ups and downs as interests change what's being checked out. Paranormal Romances, like novels about vampires, is one category that popularity of the genre increases and decreases with pop culture. Those books were always there, then they disappeared for a while. Anne Rice's "Vampire Chronicles" started the genre in the 80s and then it kind of faded. There were a couple of romance authors that jumped in with titles. Then, "Twilight" released and popularity surged.
Likewise, the rise of Chick Lit came out of nowhere, it was really popular for a while and then not so much and then the "50 Shades of Grey" phenomenon. Erotic romance had been around for years and years and years before that. Honestly, one of the hardest things you have to do as someone who works in collection development is that you have to leave your personal opinion and biases at the door because you're going to buy a lot of things that you know are going to offend people. I buy a lot of things I wouldn't buy for myself. But I have to remember that it's my job to build a collection that is welcoming and of interest to everyone, that's balanced.