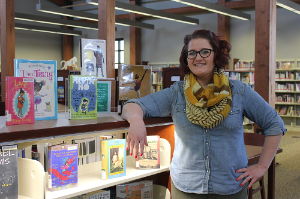 Keeley Payne is a library assistant at our Trafalgar Branch. She works with children's programming and reference. In addition to storytimes, STEAM activities and helping patrons, Keeley is leading our Summer Learning Program this summer helping plan programs, prizes, promotional items and everything in between. Our Summer Learning Program continues to grow and change to engage children and adults alike.
Read our interview with Keeley and find out what exciting things are happening at your library this summer.

Johnson County Public Library: What is Explore Summer?
Keeley Payne: Explore Summer (our Summer Learning Program) is a fun way to get our community reading and learning throughout the summer. It's fun a way for everyone to keep their brains going when it's tempting to set learning aside for outside activities and travel. We hope to offer programming and incentivize reading to keep it relevant even when the weather is great.
JCPL: How does it work?
KP: The Summer Learning Program is designed to engage adults and kids with activities and prizes. We stress the importance for kids to continue to learn throughout the summer in order to combat summer learning loss. We'll have weekly challenges and weekly badges that everyone can earn when activities and reading hours are entered on our website. We are also working toward a community reading goal of 35,000 hours collectively. Badge earners will be able to cast votes for one of our community prizes – a program or resource that JCPL will offer if we reach the community reading goal. We've got some great ideas we think our patrons will be excited to vote for and see offered at the library. So be sure to watch the progress thermometers at your branches to see how many reading hours are being logged.
JCPL: What is summer learning loss?
KP: Studies have been exploring summer learning loss for years. Summer learning loss is the loss of general knowledge over the course of an extended break from a learning environment. Summer learning loss is when you send your child to school and they learn all year, then they take summer vacation and they forget a lot of what they've learned during school. While summer learning loss affects all children from all backgrounds, it disproportionately affects children from lower income families more than higher income families, as lower income families have less access to opportunities like learning camps, home computers and travel experiences. The library is a free resource for everyone – leveling the learning playing field.
JCPL: Why is summer learning important?
KP: Studies have shown that if a child is given a standardized test at the beginning of the year they do far worse than if they are tested at the end of the year. That's because they've lost so much knowledge after they leave school for the summer. It is important to play, have fun and relax during the summer. However, kids should not take a break from exercising their minds. Children and adults have the opportunities to explore new languages, musical instruments, technology and more at JCPL.
JCPL: What are the prizes?
KP: We will have some really cool aluminum reusable bottles, adorable stuffed animals with cute little JCPL T-shirts, earbud wallets, lunch/snack sacks and more! The grand prize this year is going to be a destination or weekend get away. The winner will get to choose from three destinations: French Lick, Indy or Great Wolf Lodge. We're also really excited to offer a community prize that our patrons will get to vote for their favorite new program or resources, if we accomplish our community reading goal! We're still discussing what the community prize will be but I can tell you that we've talked about a program, virtual reality and even a video game collection. You'll have to participate in Explore Summer to find out more!
JCPL: Tell us about sign-ups and the prize patrol?
KP: YES! We've wanted to do prize patrol for a couple of years now. People that sign up will be given a yard sign. Our prize patrol will drive through the community and choose a house with a sign to win a prize package! I think that's such an exciting thing to do for our patrons. It gets the library out of the building and out into the community and I love it.
JCPL: Why would a teen or adult participate? How are you encouraging them to participate?
KP: I think that even adults that don't have children or teens can set an example that we never stop learning. You don't need to have or be a child to experience all the opportunities a library has to offer. Adults will find great programs like coding and tech, book discussions, crafts and opportunities to meet best-selling authors at the library this summer and who wouldn't want a chance to win that grand prize trip to French Lick or Indianapolis – it sounds great to me!

JCPL: How did you come up with "Explore Summer?"
KP: It was short, sweet and all encompassing. We had seen some other libraries that had done kind of a blanket concept for their summer programs and it seemed like the right time to move it in that direction.
JCPL: Do programs like Stout Stories and book discussions count as credit toward Explore Summer? Could you tell us a little about these programs?
KP: They absolutely count for Summer Learning credit: if you're reading, if you're attending a library program, that time learning counts toward your goal. Stout Stories is a 21 and up only book discussion. We meet the first Monday of every month at rotating breweries and wineries across Johnson County to discuss that month's book selection. It's a wonderful way for the library to grow our relationship with local businesses too. We vote as a group on the books that we are going to discuss for the upcoming six months and we just have fabulous discussions.
JCPL: What's your favorite part of summer learning? What are you most looking forward to?
KP: Man, I just love it. I've worked in libraries since I was 17 years old and I worked as a summer reading clerk at the Indianapolis Public Library, so I guess it's in my library DNA. Summer Learning is this summer long, free activity that you can do all day everyday and you get rewarded for learning. It's something you can do as a family, no matter what your interests are, no matter what your reading level. Some of my earliest memories are of my parents taking me to the library and I cherish that. I hope our community, no matter who you are or what your interests, sees us as a destination and not an errand to check off the list.