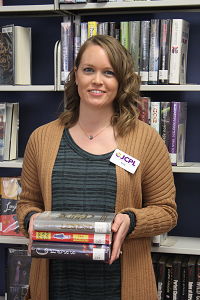 Posted by Johnson County Public Library / February 2018

*Note: Kelly Staten is now the Programming Manager at JCPL*
Kelly Staten is a Teen and Adult Services Librarian at our Franklin Branch. In addition to what you would imagine are a librarian's duties – helping patrons find books and resources and offering reading suggestions – Kelly spends a good portion of her time creating and planning programs for teens and adults at the library. One of her programs has really grown over the past several years and has taken on a life of its own, including media coverage and community partnerships!
Read our interview with Kelly and learn how a few formals hanging in her own closet has become JCPL's Project Prom.

Johnson County Public Library: What is Project Prom?

Kelly Staten: Project Prom is a program for teens who are in need of formal wear to wear to their prom. JCPL collects gently used formal wear, shoes and accessories then teens can come look through our selection on the designated program dates. We've recently expanded to hosting small pop up shops for homecoming and winter formal as well!
JCPL: Where did you get the idea for Project Prom?
KS: Five years ago, I started a teen program we called Prom Dress Swap. Like most women in their mid to late twenties, I'd amassed a number of formal dresses from weddings and high school banquets that I never wore anymore. They were in great condition but just hanging in the closet taking up space when I thought "why not create a program out of this at the library?" and Project Prom was born.
JCPL: Could you share about some of the behind the scenes? What kind of details do you have to plan each year for a successful program?
KS: There is a lot of planning that goes into making the program a success. We start thinking about the next year about five to six months before the program actually takes place. Our committee sets the dates and schedules the program with plenty of time before prom while avoiding spring break. It also takes quite a bit of communication with the sponsors and partners to finalize their involvement and then once the day arrives, it takes hours to set up! Thankfully, we have a great team of volunteers from Zeta Tau Alpha and JCPL that help make that process go much faster.
JCPL: What kind of experience do you hope the teens will have at the library?
KS: Shopping for a prom dress can be kind of intimidating, especially if you're on a limited budget. Boutique dresses can cost anywhere from $300 - $1,000! My hope is that teens will find the perfect dress or tux here, be able to attend prom and make memories (that include the library) on their special night.
JCPL: How do you interact with teens as they shop?
KS: Last year we had the Franklin College Zeta Tau Alpha chapter helping teens shop for dresses and when they would come out to show their parents and friends, the women in the sorority would cheer and clap for them. It's a really positive atmosphere that makes the teens feel confident in the dresses they try on.
JCPL: How does it feel to help teens find that perfect dress or suit?
KS: It's always really exciting when a teen finds a dress or suit for prom. I'm happy that the library can make that happen for them. I always encourage them to share pictures with us from prom so we can see how they look on prom night!
JCPL: What's your favorite part of the program?
KS: I love seeing how excited the teens get when they find the perfect dress or suit...for free! It's a special moment.
JCPL: How many students have you helped find through Project Prom?
KS: Since 2013, we've had over 800 people attend our Project Prom programs. Last year alone, almost 200 teens found formal wear for Prom!
JCPL: Project Prom continues to grow each year. How has the program developed in the past few years?
KS: We now have a dedicated committee that meets year-round to plan the program. New community partnerships continue to come on board and we're excited to offer alterations and some fun giveaways for the teens in 2018. Businesses now approach us about partnering, making the program truly a community effort.