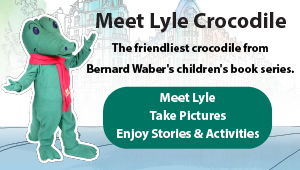 Meet Lyle Crocodile!
All the way from New York City, the world's most charming crocodile is coming to a library near you. Don't be afraid of the toothy grin - Lyle Crocodile wants to be everyone's friend.
Take pictures, enjoy fun stories and activities, and meet one of the friendliest crocodiles around.

Fri • Jun 2 • 3 p.m. • Families • Franklin Branch
Tue • Jun 6 • 10 a.m. • Families • Clark Pleasant Branch
Tue • Jun 6 • 2 p.m. • Families • White River Branch