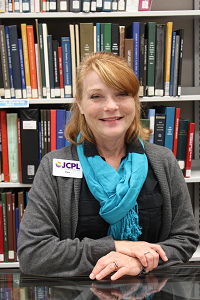 Pam Caito is the assistant in the Historical Room at the Franklin Branch and in the Marketing and Communications Department at our Library Services Center. She loves helping patrons find information about their family history or their homes. Pam leads the monthly Your House History Conversation Group where they exchange stories and resources for researching the history of their home. Read our interview with Pam and learn a little bit about the Historical Room.
Johnson County Public Library: What kinds of resources can patrons find in the Historical Room?
Pam Caito: Libraries are great for free resources. For the casual genealogist or someone who is looking up ancestors as a hobby, ancestry.com is a fantastic resource. But most of us tend to do a lot of research for a time, and then we get pulled away by life's happenings. Why pay monthly fee for something you may not be able to use for a few months? The library offers a version of ancestry.com for free so our patrons and come in and do that research without the cost of a subscription. Another great way to do some casual or even in-depth research is with newspaper archives. The library has recently obtained a subscription to Indianapolis Star archives back to 1859. The beauty of this arrangement for patrons who live in Johnson County, is that the Star looked for news outside of Marion County and reported on it in its paper. We also have the Franklin newspapers back to 1912 digitized, as well as some 1845 newspapers on microfilm. All these resources make even the casual research easy and enjoyable.
JCPL: What is the most common question patrons ask you?
PC: I often get asked, "Can you look up: birth certificate, death certificate and marriage certificate?" I recently looked up a marriage certificate in Johnson County for a marriage in 1835. The family's descendants from this union went on to be owners of many businesses here in Franklin. It was an interesting legacy to piece together.
JCPL: What are some interesting things you've learned about Johnson County?
PC: I love reading about what the county must have looked like before it was developed. My imagination really gets going thinking about how the vegetation was left to grow for centuries untouched and how that must have looked to the early settlers. It is hard to imagine that only five farms were located between the northern tip of White River Township and Indianapolis during the 1840s. Also, I am always amazed at how the settlers immediately set about creating a structure of laws and schools.
JCPL: Where do you get your inspiration for your posts on JCPL's Now You Know blog?
PC: I have always loved history, especially the stories. I was first struck by how fun it was to read the firsthand accounts of the day to day life of the Johnson County residents. Some of it would take me by surprise and debunked long held perceptions of pioneers. The Now You Know blog lets me bring to life everyday dramas of the past and hopefully my readers will laugh, cry and feel proud of their home here in Johnson County.
JCPL: What is the House Histories program and how did you come up with the idea?
PC: Along with death, birth and marriage certificates, I was seeing a number of local residents come in looking for the history of their houses. The history of a house is linked to the community. I felt these homeowners really needed to meet and share stories because it seemed everyone had a piece of the puzzle that could help a neighbor's search for their house history.
JCPL: What is your favorite part of working in the Historical Room?
PC: It has to be the history and the wonderful access to resources. I get just as interested piecing together a family history or a house history for a patron as I do for my own family history. I love hearing the patron's family stories. I "get it" why it is important to them. I try to provide a good service, because I know it matters to the patron to know that parts of their family are not lost, they just needed to know how to find them.
JCPL: How can people find out more information about the Historical Room?
PC: The best way to find more information is to check out our website, pageafterpage.org/genealogy-historical-room. I also encourage you to come in and talk to me. I am scheduled in the Historical Room Mondays and Tuesdays to help patrons use our resources. I will look up information for you, but I would love to assist you in getting started on your own journey to the past.