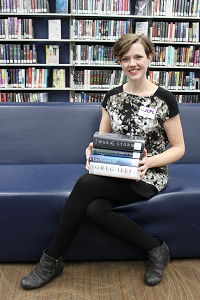 Sarah Taylor, Programming Manager
Posted by Johnson County Public Library / April 2019

*Note: Sarah Taylor is now the Assistant Director at JCPL*
Sarah Taylor is the Programming Manager at Johnson County Public Library. She oversees system-wide programs like Authors at JCPL series and Explore Summer, our annual summer learning program. Sarah also works with our librarians to assist with program coordination for people of all ages at each of the branches. Read our interview with Sarah and learn about some of the exciting programs she plans throughout the year.
Johnson County Public Library: You started out as a librarian, then a branch manager and now you're the programming manager for the whole system. Could you tell us a little bit about how you transitioned from each role?
Sarah Taylor: I've had the opportunity to do so many different things here and I learn new things every day! I actually started out as a part-time library assistant at the circulation desk at our White River Branch while I worked on my master's degree. Then I worked for seven years as a Children's Librarian/Children's Services Manager at the Franklin Branch. This is where I found my calling - working with families in our community. When I was promoted to branch manager, I kept all my old duties and added in a few more so I had the opportunity work more closely with adults and other community organizations. In my role now, I serve the county as a whole, so I spend more time looking at the library's big picture.
JCPL: Why is programming at the library important?
ST: One of my favorite parts about public libraries is that we are free and open to everyone in our community. The same goes for programming - programs provide learning opportunities free of charge, to anyone wanting to learn something new. From preschool storytimes and children's coding programs, to programs on technology, sewing and gardening for adults, there's something for everyone to learn at library programs. Programming brings us together for a shared purpose and that experience is an important part of what libraries do.
JCPL: What are some unique programs that JCPL offers that maybe other libraries don't offer?
ST: It's important that every library works to serve their particular community, and since Johnson County is different from other communities, it makes sense that we offer programs that our unique to our county. One such program is the Authors at JCPL series, which brings best-selling and award winning authors right here to Central Indiana. Another is Project Prom, a program where teens can "shop" for free formal wear for their prom. Library on the Prairie is a living history pioneer festival on the prairie at our Trafalgar Branch. We are constantly looking for ways to meet the needs of our community.
JCPL: How have JCPL programs changed in the last few years?
ST: We've always had fun programs at JCPL! Just recently, the Johnson County Public Library Foundation was created, which has allowed us to host some larger events like our Authors at JCPL program and the international film series. With these donated dollars, we are able to expand our summer learning program and step-up our programming to do some new and exciting things.
JCPL: What's your favorite thing about programming at the library?

ST: Attending an event and engaging with our community is by far my favorite part of programming. It's exciting to plan an event that brings people together and creates a shared community experience. When you get so many people in a room talking about books or authors, there's a real energy. It's great to connect with library users, and also to meet new people who have never visited the library before.
JCPL: What kinds of details do you have to plan for signature events like the Author Series or Explore Summer?
ST: Each event is different, but there are several things that always go into creating our signature events. First of all, I need to consider costs, so I know whether I need to apply for grants to bring the program here. Then I look at anticipated attendance numbers. If the program is going to be larger than our branches can hold, I need to find a partnering event space that can host us. Once we have funding, a space and a date locked down, our marketing team starts promoting the event to draw a crowd while I coordinate staffing for the event. After the event, our team meets together to go over how the event went, spending time with community feedback and anecdotes so we know what went well and what we can improve for the future. With each event, we learn more about our community and what they want from their library.
JCPL: How many people attended our signature events in 2018?
ST: We had fantastic participation last year. Last summer, 6,237 people of all ages participated in Explore Summer, logging 3 million minutes of reading time- an increase of 18 percent over 2017! About 600 people visited our first Library on the Prairie Festival at our Trafalgar Branch. We welcomed 1,196 people who attended our Authors at JCPL series, which featured best-selling authors like Lisa Scottoline, Victoria Aveyard and U.S. Poet Laureate, Tracy K. Smith.