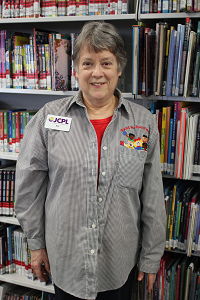 Sue Salamone is a Children's Librarian at our Clark Pleasant Branch. Sue shares the love of reading everywhere she goes. At the library, she leads storytimes, Homeschool Hangout, Tales for Tails, shares her ideas with several JCPL committees and participates on the Reader's Advisory committee for the state. Sue was named Indiana Library Federation's 2019 Outstanding Librarian of the Year. If your child attends a Clark Pleasant elementary school or you visit our Clark Pleasant Branch, you know just how special Miss Sue is. Read our interview with Miss Sue and learn about all of the wonderful things she does for the Clark Pleasant area.
Johnson County Public Library: What's your library background? How long have you worked at JCPL?
Sue Salamone: I finished library school at IUPUI and started working at JCPL that summer. I've been at the Clark Pleasant Branch for a little over 17 years.
JCPL: What does being a librarian mean to you?
SS: I get paid to have fun. Work is at home. That's my motto. I'm not sure when I developed it but that's definitely my motto. I have so much fun.
JCPL: What's your favorite part of being a librarian?
SS: I love helping teachers and patrons who come into the library. I just love finding every little thing I can about whatever topic they need help with until they tell me to stop. I'll look in every nook and cranny until I find you a journal article. I try to go the extra mile to find all the requests that relate to that topic for teachers' research or a patron's question.
JCPL: How do you take children's library services outside the library?
SS: I read stories at preschools and elementary schools. I attend kindergarten registration, back to school nights, literacy nights and book fairs. I've attended special events like a Dr. Seuss Read-A-Thon at Clark Elementary. I've also shared with first-graders at Break O Day about story elements. When JCPL offered SMART Cards to Cark-Pleasant schools, I visited Grassy Creek fourth-graders to share library resources and databases with them.
JCPL: What does your typical day look like?
SS: I prepare for a storytime or outreach if I've got one, deliver books to Country Charm, Christina Place and Sawmill Woods Preschool. I have a homebound patron that I prepare about 20 books for each month. I send her inspirational books and light mysteries. She'll write little notes on her receipt back to us like "Awesome" or "This was great." I'm always on the lookout for something new for her. I work on promoting our programs. I'm always planning ahead and thinking about the next month.
JCPL: Tell us about a special memory of being a children's librarian?
SS: One of the most touching moments I can remember was from back when I had my thyroid surgery. I was talking and reading like Minnie Mouse for three months. One of the kindergarten classes at Grassy Creek Elementary made me a little booklet; all the kids signed it, with some cookies and the tag read "you're one tough cookie." That was very touching that the classrooms and teachers put together a booklet for me. It's nice when the children come in and tell their mom or dad, "That's Miss Sue and she comes to read to us at school!"
JCPL: Where do you get your ideas for your programs?
SS: I'm always looking for fun themes for programs! I've asked our homeschool parents to give me ideas about what they'd like to cover during programs. I love trying to have a special guest come in from the community. I keep our educational resources like the Johnson County recycling district, Purdue Extension and Soil and Water Conservation District in the rotation, too. I print out their schedules of programs they can come do and then I plan them out with my homeschool group.
JCPL: Can you share a little about Tales for Tails?
SS: Once a month I make a few stations around the community room with a mat or blanket for children to sign up to read for 15 minutes to our pet therapy doggies that visit us. Reading out loud to the dogs helps the children with their self-esteem. The handlers are very laid back and positive. I hear them help the kids with a word without any judgment. Some children bring a book they're reading for a homework assignment while others pick out a book that I've set out for them. I have coloring sheets out while everyone waits for their turn. It's a fun evening.
JCPL: Where did your love of reading come from?
SS: Nancy Drew got me reading more longer chapter books to find out who done it. I still like those books today. Reading clicked for me in fifth grade. I just love a good mystery. My favorite book now is "Because of Winn Dixie."
JCPL: What does being the Outstanding Librarian of 2019 mean to you?
SS: I feel humbled and honored to receive this award. I already feel appreciated within my library system. We encourage each other. We're a team and it's fun to be here. I feel special because my library chose me and the committee read through the letters of recommendation. It's a great honor in the whole state of Indiana. It's amazing and bewildering.
JCPL: What kind of impact do you hope to have on the Clark Pleasant Community?
SS: I hope to instill the idea of "let's go to the library." When I visit the schools to share about our programs, I tell the children to come see me at the library. I want them to want to visit the library and to know that we're a valuable resource to them. I want to help them with their love of lifelong learning.