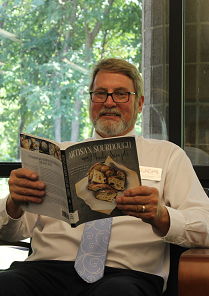 Tom Randall is the Circulation Manager at our White River Branch. As the Circulation Manager, Tom oversees the process of checking materials out from the library. He has a wide knowledge of what's in the library and how to find it through the software. But Tom doesn't spend all his time behind the front counter, he's quite the accomplished baker, too. Read our interview with Tom and learn how his work at the library and his passion for baking come together.
Johnson County Public Library: What's your library background? How long have you worked for JCPL?
Tom Randall: Honestly I don't have any library background. I've been the Circulation Manager since I was hired at the White River branch, and it was frankly a little awkward at first because I didn't come from a library background. [The Circulation Manager oversees the process of checking materials out from the library, must have a wide knowledge of what's in the library and how to find it through the software and is basically the front line customer service.] I actually came from retail background, having worked for a Borders bookstore for almost eight years. I'm very customer service oriented, so I bring a lot of that skill to the library. I've been here for nine years now.
JCPL: What's your favorite thing about working at JCPL?
TR: The relationships that I have with people, both staff and patrons, are the best part about working at JCPL. I have an outstanding circulation crew and shelving crew; I wouldn't trade them for anybody. But beyond that is developing the relationships with the people who come into the library. Over the years, I've gotten to know our regulars – calling most by name. I even consider some of them friends now that we've shared interests in authors. We talk about who we've read and they make book recommendations for me, too. There's one fellow that when I read a book and like it, I know we have very similar tastes so I'll just go ahead and put it on hold for him. That's really neat! I've got another good friend, he's moved out of this area now, but he's an 85 year old former marine, and he used to come in just a ray of sunshine every time, always had a kind word to say to everybody. So, we have lunch together about every month or so and just catch up. Relationships like that are one of the best parts about working at the library. I feel like I'm making a difference for people. I was in retail for many, many years and it was all about sales. But, at the library you're making a difference in people's lives - you may not know it, you may not see it, but you are. I see college students who, when I first started working here could barely see over the counter. It's good to know that I shared a little part of their lives, their love of books.
Even with my own grandkids, the fact that I have been instrumental in getting them to read is important. My oldest granddaughter called me up and she did really well on her SAT and ACT tests in reading comprehension and she said, "Grandpa I think it's because you always bought us books and I really like reading." I ask my other grandkids for Christmas lists, and there's no toys on them because they just know they are going get books. Being able to impact lives like that, to me that's probably one of the best things about working at the library.
JCPL: Your baking skills have become well known among your co-workers here at the library. How did you get started baking?
TR: I work at the library to earn my living, but I'm a baker at heart. I never had a chance [not to love baking]. My grandparents owned a little bakery in my hometown. My dad worked his way through college in the family bakery. My uncle became the head baker when my grandparents retired. I started working in the bakery when I was in junior high school (before child labor laws). I would go to work at 5 o'clock in the morning and I would have to walk down the alley past the police department. A few times they would stop me and want to know what I was doing out at that hour. But once they realized who my family was, they knew where I was going. I worked in the family bakery off and on through junior high and high school, but I've always liked baking. It just came naturally.
JCPL: What kinds of things do you enjoy baking?
TR: I have go-to recipes for cookies and muffins and things like that, but I don't know that there's any one thing that I like to make. There's just something about the creative process where you take some basic ingredients and you can make something really neat out of them. I like baking for other people, the delight on their face when they see or try something that you've baked and it's good. It's very soul satisfying.
JCPL: Do you have all of your recipes written down?
TR: Yeah, I have an app on my iPad called Paprika and most recipes are on there. I do have notebooks and scraps of paper and handwritten recipes, too. I have some recipes that are written in my mother's handwriting and she's long-since passed away and those are really special to me. I have scraps of paper and things out of magazines all over the place. And, I like to read recipe books almost like a novel. Sometimes I don't bake everything in there, but I like to look at them.
JCPL: You do put your baking skills to work at the library, from time to time. Could you tell us a little bit about the Bread of the Month Club that you do for JCPL staff?
TR: As a part of our annual staff development day, we had a silent auction for employees to donate items for sale and the proceeds benefit the staff benevolence fund. Well, I would take the day off before staff day and I would bake bread from morning until the wee hours of into the night to donate all the items for sale. But there's only a certain amount that I can do physically, and I just don't have enough time to keep up with that. So I thought, what if I offered a bread of a month kind of thing where I donated coupons and then staff could buy them and request items whenever they wanted them, throughout the year. I think I initially did like four bread of the month offerings and I'm doing six now.
JCPL: Over the summer you did a Sourdough Bread Baking class at our Trafalgar Branch, and it was quite a hit. Do you have any plans to host another class at JCPL?
TR: If I were asked, I would do it. The challenge is condensing something that can take five or six hours (or even a couple of days) to process and trying to condense that down to an hour program. It's pretty tough to do but I'd be happy to do it. I love sharing that kind of stuff with people.
JCPL: You baked all of the cornbread muffins for the Library on the Prairie Festival we hosted this summer. Could you tell us a little bit about the process?
TR: I ended up baking about 350 muffins, somewhere in that neighborhood. It wasn't hard because the corn muffins were easy to do. It was just keeping track of how many had been made. Then, we'd watch the table to see how quickly they were going and I had to calculate how long it was going to take me to make the next batch of muffins so that there was always fresh muffins. Corn muffins ought to always be eaten hot; that's just all there is to it. It wasn't hard, it was just figuring out the quantities and getting the timing just right.
JCPL: Have you ever thought about opening your own shop?
TR: I have thought about it. But, then it becomes a job and you have to get up at 3 or 4 o'clock in the morning and you have to bake this and you have to bake that. Now, I bake what I want and when I want to bake it. I joke about the muse, I seriously believe that I have a muse and things tell me when they need to be baked whether its brownies or cinnamon rolls or whether its this kind of bread or that kind of bread it's like I think about it for a day and I think I really need to make that. Having said that, we went on vacation in California two summers ago. Balboa Island is very affluent little community, like an upscale Nashville, Indiana. There was a little bakery there and it wasn't much bigger than my office here at the library, and they had a couple of mixers and a counter and they had no place to sit, maybe there was one table. Basically, it was a walk-up bakery and they had cookies, muffins, bagels, cupcakes and things like that. People would just come in off the street, buy it and eat it while they were walking out and I've often thought you know that's something that maybe in retirement that might be kind of neat to do. I could set my own hours. I could say this is what we have, this is what we're serving and when we're out, we're out and that's it. I bake because I love to do it and yeah, people have encouraged me to open a shop.
Baking is a creative outlet for me. I think there's a creative person inside of me that wants to get out. I've thought about my own shop, but I'm happy doing what I'm doing.