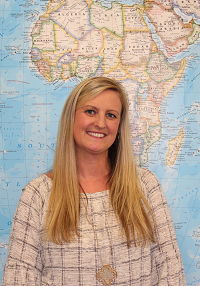 Wendy Preilis is the Adult Learning Center Coordinator at Johnson County Public Library. She provides literacy services and programs to adults in Johnson County. She leads weekly small group sessions to help students who are learning English as a second language. Read our interview with Wendy and learn about how she is making a difference in our community.
JCPL: What is the Adult Learning Center at Johnson County Public Library?
Wendy Preilis: We help adults prepare for tests like driver's license, High School Equivalency exam, citizenship, etc. We provide services to adults who need to learn English as a second language.
JCPL: What's your favorite thing about working in the ALC?
WP: I meet so many wonderful people from all over the world with such interesting cultures and life experiences. They are happy to share and educate others about who they are, where they are from, their languages and their cultures. It's fascinating that I stay here in Franklin and I get to meet people from all over the world. We are changing lives through the ALC because we're helping them get jobs, stay healthy, pass tests, become citizens.
JCPL: How do your students learn about the ALC?
WP: Typically, adults learn about our program through word-of-mouth. Central Nine Career Center does a great job sharing with their students about programs at the library.
JCPL: How many different cultures are represented in your ESL groups?
WP: We have a variety of cultures represented in our groups - we currently have adults from Japan, China, Mexico, Brazil, India, Russia, Cameroon, Taiwan, Korea, Peru, Ukraine, Vietnam, Honduras, Dominican Republic and Colombia.
JCPL: Could you tell us about the Know Your Community series you worked on as a JCPL Make a Difference Project this year?
WP: We worked with community partners to visit and present to our ESL groups on a variety of topics - library services, United Way programs, Emergency Responders, grocery shopping and healthy eating habits, public education and health and wellness in our communities.
JCPL: The Spelling Bee is a unique event for the ALC. How would you explain the spelling bee to a newcomer who's never heard about the event?
WP: Our signature program for the ALC is our annual Adult Spelling Bee. It is a great community event that highlights our services. Teams of three compete for $150 prize! Teams are given 10 seconds to attempt to spell really difficult words. Teams use white boards to display the words—this takes the pressure off one person spelling out loud in front of a group of judges. This year we are hosting our 13th Annual Spelling Bee at Big Woods in Franklin. A spelling bee is a popular event that raises awareness for adult literacy nationally.
JCPL: The ALC is always looking for volunteers to help tutor students. What does a tutor do? Are there any special qualifications? How can the community get involved?
WP: A tutor meets with a student once a week for an hour. Most of the time, students want to practice speaking English and listening to English. Some students are focusing on passing a test for citizenship or obtaining a driver's license test. Other students want to study for English proficiency tests like the TOEFL and the TOEIC. There aren't any special qualifications, we ask that all of our volunteers be over the age of 18, pass a limited criminal background check and be open to learning about other cultures. The community can get involved in a variety of ways! Volunteer, share about our programs with others and support the Library Foundation.
JCPL: Could you describe the different classes you offer?
WP: The ALC provides a variety of programs for adults to attend each week. On Mondays we offer a Beginning English class. This group focuses on basic English communications skills. We learn about basic greetings, conversational skills, listening skills and building correct sentences. On Tuesdays, the ALC offers a more advance class that focuses on learning higher-level vocabulary, using historical research and biographies to learn and practice English communication skills. On Wednesdays, the ALC hosts an ESL Conversation Group. This group practices speaking English and learns about American culture by studying current events. On Fridays the ALC offers a "News for You" reading group. We explore a weekly newspaper published for adults who are learning English or who need to improve their reading skills.
Over the last couple of years, we have formed an ESL book club. Its not set up like a normal library book discussion group. We break the book discussion into three different meetings. We really focus on the language, vocabulary, characters and trying to figure out the meaning of the book. Our group has a lot of cultural discussions based on the book. It's a way to give our students that library experience of reading a book and discussing it. Our next one meets in July.
JCPL: How has your group of students and tutors grown over the last few years? How have you seen Johnson County grow and change?
WP: Our group has grown over the last few years. In 2011, we only offered one-on-one tutoring. I had a large waiting list of adults that wanted to practice and learn English. I decided to learn about ESL Conversation groups and we held our first one in August of 2012. The need for adult programming for this population continued to grow. Now we offer classes four to five times per week plus the one-on-one tutoring. Right now, we have 35 tutoring groups that meet weekly, plus many adults also attend the weekly programs. We average about 100 in attendance each month for our group programs. Johnson County continues to become more and more diverse. The ALC will continue to grow and offer services to those who need it.
JCPL: What does the future of the ALC look like? How will your programming change in the future?
WP: I think our future looks bright! We continue to grow and continue to offer great programs for adults that really have an impact on their life here in Indiana. Our programming will change as our population changes. The ALC will adjust to the needs of our community. We need to be relevant to those who need this service so we will change and evolve as needed.
JCPL: What do you consider a success in the ALC? How do you measure impact with your ESL students? What do you hope to achieve with your students?
WP: A success is any time a student is able to learn something new, communicate in English, pass a test or understand a story or article in English. Our tutor's work hard to help students understand the world they now live in—here in Johnson County. These JCPL programs encourage adults to learn and practice English in a very safe environment. Adults need to be able to communicate with doctors, teachers, co-workers, bosses, etc. Our programs help these adults with real-life interactions. We hope to build confidence for these adults to be a part of our community. They have so much to offer.
JCPL: Why do your classes rotate from branch to branch?
WP: We rotate around the county for convenience to the adults we serve. Some adults cannot drive, or are so new to the area that they prefer not to drive too far from their home. We also have multiple other programs within the JCPL system to compete with for space.