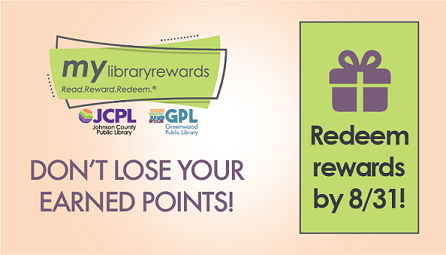 Don't Lose Your Points
My Library Rewards is coming to an end, but you still have time to redeem your earned points for some great rewards! Please redeem your points for rewards/discounts/coupons by August 31. Please print off any vouchers before the end of the month. If you need assistance accessing your account, please contact My Library Rewards support.
My Library Rewards
Earn Rewards When You Use Your Library Card
Earn points toward rewards at local and national vendors simply by checking out materials at the library.
Sign Up - Register at MyLibraryRewards with your email address and library card number(s) to start earning points. Multiple card numbers (spouse/children) can be included on one account. **You must be at least 13 years of age to register.
Earn Points - You will then automatically earn 10 points for each item (physical materials) checked out at the library – there are no extra steps. And the best part is that no one starts from scratch! You can earn up to 600 points without even registering. Once you sign up for the program, you will continue to earn points for each item checked out (maximum 100 points per week).
Find Discounts - Go to mylibraryrewards.com or download the My Library Rewards app (for iOS or Android) to find participating businesses and to see offers.
Get Rewards - Get your point balance and redeem points online to enjoy discounts and freebies at local businesses. Once you redeem an offer, you have seven days to use it. Most businesses will accept both a printed coupon or the digital coupon on the app; however, if they only accept one format, it will be noted on the offer. Coupons may only be printed once. If you want to use the digital coupon, you must activate the coupon, at which time you'll have two hours to use before it expires. The word "valid" flashes when the coupon is active.

Please read the FAQ before registering and then Visit MyLibraryRewards to get started!
Frequently Asked Questions
Participating businesses include Baskin Robbins, Chicago's Pizza, Chick-fil-A, Madison Street Salvage, Middle Davids Artisan Candles and Toodleydoo Toys, so far. Stay tuned for a complete list of businesses.
Interested in participating as a local merchant? Find more information and contact My Library Rewards.