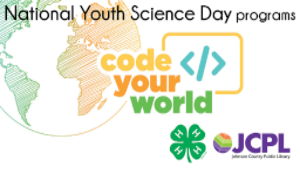 Code Your World
We're partnering with Johnson County 4-H (Indiana) to bring National Youth Science Day (NYSD) programs to kids across Johnson County. NYSD provides hands-on STEM challenges in the form of games and hands-on fun to teach kids important computer science and computational thinking concepts, and is perfect for first-time and beginner coders ages 8-14. We'll be offering NYSD programs in our branches on the following dates:
Fri / Oct. 19 / 4 p.m. - Franklin Branch
Register
Mon / Oct. 22 / 6:30 p.m. - Trafalgar Branch
Register
Tue / Oct. 23 / 4 p.m. - Clark Pleasant Branch Register
Mon / Oct. 29 / 4 p.m. - White River Branch Register

For the past ten years, 4-H has developed hands-on challenges that shows kids how STEM skills can be applied to the world around them. This fall, we expect to reach more than 150,000 kids at thousands of events across all 50 states through NYSD.
4-H will hold NYSD events throughout the month of October in classrooms, clubs, homes and after-school spaces across the country. Check out a preview of this year's CODE YOUR WORLD challenge and find out how you can get involved!