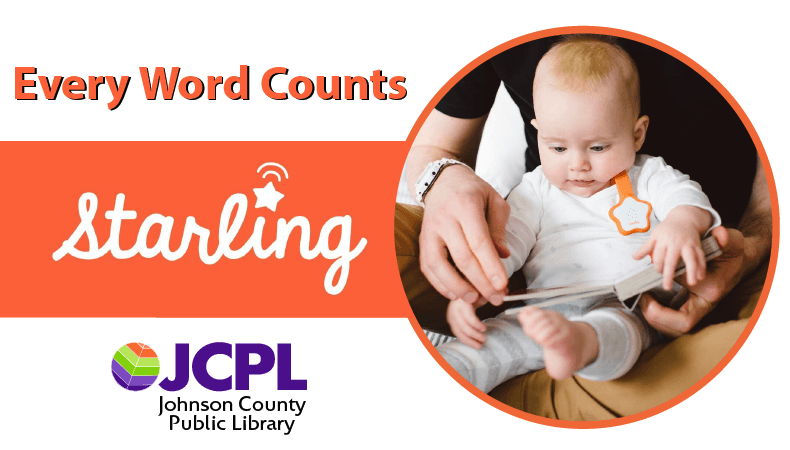 We know a thing or two about reading at the library and one thing we know for sure is that learning to read starts early. To help you lay a solid foundation for your child's journey to literacy, the library now has a nifty gadget you can check out to help you. The Starling device is essentially a pedometer for talking. This little wearable device clips to your baby's clothes and counts the words you speak to your child.

Just like any skill passed on to little ones, the more exposure and practice kiddos get with books and reading, the better their chances of being readers as they grow up. But reading skills don't stop on the page of a book —there are five big practices that lead to reading readiness, and four of them aren't even reading.
The five Early Literacy Practices that help children learn to read are Reading, Writing, Talking, Singing and Playing. Librarians incorporate these practices into their storytimes and programs.
If you read, write, sing, talk and play every day with your little one, you're setting them up for future reading success. Sure, it may seem like a no-brainer to play, talk and read, but a busy day goes by in a flash. It's tough to guarantee you've checked every literacy checkbox. That's where the Starling can help.
Talk, Talk, Talk
Talking amounts to more than just words to fill time. Talking does oh so much for a developing brain. Little minds are hungry to hear words and understand the people around them. Talking not only builds vocab, but it also fosters connections and bonding between grownups and children. Plus, it gives children great examples of how to hold conversations and interact with others.
The Starling helps with more than just talking, though. The device will pick up singing and reading activities too. When you are engaging your child in imaginative play, those encouraging words and instructions you speak are strengthening your child's verbal "muscles" that will later be used for reading and writing. The more you regularly and intentionally interact with your little one, the easier it is to pack all 5 key literacy activities into your day!
How does this thing work?
The Starling is a habit-builder and a goal setter. Starling pairs with a free app for your smartphone or tablet (available on iOS and Android) to keep track of words spoken to your baby on a daily, weekly and overall basis. The app helps you set goals to keep that gab going strong and it gives daily tips on fun ways to start great conversations for you and your little one. Sync up the device each day to see your new totals and find out how much talking you already do, then strive toward whatever goals you want to set. If you don't sync for a few days, there's no need to worry--the Starling can hold on to your word counts for around seven days at a time.
The Starling "listens" to a small radius around it. The device counts words spoken in that small area, so it works to count conversations and leave out background noise. It works in any language and does not record conversations. It tracks only your word count and gives it back to you in a total number, not a recording.
Check out a kit!
We offer the Starling device for checkout as a part of our Starling Kits. It's a whole early literacy backpack created to help you jump-start your at-home learning. The backpack includes the Starling device plus board books, a toy for some extra play, some talking points and even a book for grownups about baby brain development for all you eager learners out there.
There's so much to be excited and curious about when it comes to Starling. You can find out more here, ask your JCPL librarian or check out a kit to see the fun firsthand.