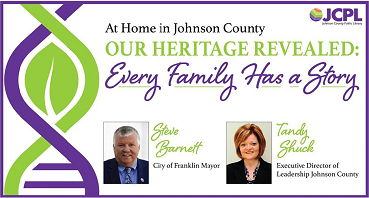 Our Heritage Revealed: Every Family Has A Story
At Home in Johnson County
continues in 2018 with a genealogy program.
Our Heritage Revealed: Every Family Has a Story
Saturday, Feb. 17, at 2:00 p.m.
Franklin Branch
This special genealogy program will present the diverse ancestry of two Johnson County celebrities, similar in style to the hit television series "Who Do You Think You Are?" Johnson County Public Library is pleased to announce the two celebrities that are participating in the event: Franklin Mayor, Steve Barnett and Executive Director - Leadership Johnson County Tandy Shuck.
"Ancestry has always intrigued me and participating in the Our Heritage Revealed event is a wonderful opportunity. I think the more we know the more we understand the hundreds of people that have lived and made it possible for us to be alive. I am a continuation of those people that have lived, loved, laughed and learned before me."
JCPL staff and researchers from the Central Indiana DNA Interest Group will utilize genealogy resources, including DNA testing, to uncover the family stories of these participants, and reveal the varied backgrounds that make up our Johnson County community.
For more information about the program, please visit our Facebook event page and Events Calendar!
Share this event with others