Play Your Card Right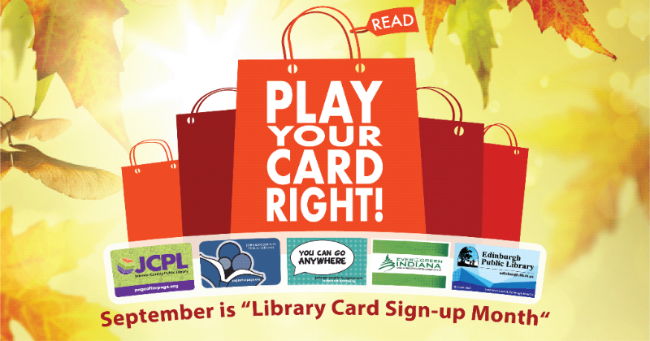 September is "Library Card Sign Up Month." A library card has always been the smartest card in your wallet, and now it's your most valuable. Show your valid Johnson County Public Library, Greenwood Public Library or Edinburgh Public Library card at these businesses to receive discounts and perks starting in September.
Did You Know?
Your library card has benefits that you can celebrate all year long:
In just one month, if you…
borrowed 5 movies

attended 2 programs and

borrowed 1 park pass

You would save $200!
Visit ilovelibraries.org to calculate how much money you and your family would save each month.
Need a Library Card?
Visit your branch today and get the smartest card in your wallet. Patrons in the JCPL district can Apply for a card online.
Johnson County Public Library Hours & Locations
Greenwood Public Library Hours & Directions
Edinburgh Wright-Hageman Public Library Hours & Directions
Get discounts at these Johnson County businesses beginning September 1:


A-Trains
180 W Main St., Greenwood, IN 46142
$5 Off Purchase of $25 or More

Addicted 2 Style
200 W. Main Street, Greenwood, IN
10% Off Services
Ann's Restaurant
77 W. Monroe St., Franklin, IN
$5 Off a $20 Purchase
Arni's Restaurant
1691 Curry Rd., Greenwood, IN 46143
$3 Off Any Large Pizza
Bardach Awards
220 W Main St., Greenwood, IN 46142
10% Off Services

Baskin Robbins
1280 U.S. 31, Greenwood, IN
Buy One 4 oz. Cone, Get One Free
Bath and Beyond Pet Salon
881 US 31., Greenwood, IN 46142
$5 Off Bath or Groom
Burger King
891 U.S. 31, Whiteland & 714 U.S. 31, Greenwood
15% discount (off pre-tax order total) &
$1.99 Hamburger King Jr. Meals
(both offers are ONLY for kids age 11 & under)

Chick-Fil-A
155 S. Marlin Dr., Greenwood, IN
Free Entree
Coffee Cup Quilting
7 Trafalgar Square, Trafalgar, IN 46181
1 Free Fat Quarter, (18"-x-20") Piece of Fabric

Coffeehouse Five
323 Market Plaza, Greenwood, IN 46142
15% Off Entire Purchase (excluding bulk coffee)

Crossroads Family Dentistry
702 W. Trafalgar Pointe Place, Trafalgar, IN
Free Floss Card or Toothbrush
DJ's Sweet Retreat
49 N Main St., Franklin, IN 46131
15% Off Total Purchase

Domino's
8843 S. U.S. 31, Edinburgh, IN
Any Large Specialty Pizza for $13.99

Donato's Pizza
2260 S U.S. 31, Greenwood
One Free Side Order of Breadsticks (dine in or carry out only)
Donna Rice Photography
300 N. Madison Ave., Greenwood,IN
$25 Credit Towards Photos with Portrait Package
El Abuelo
989 U.S. 31, Whiteland, IN
$1.00 Off Lunch #1-41

Firehouse Subs, Greenwood
884 N US 31, Greenwood, IN 46142
Buy a Sub, Get Chips and Drink Free

Fireside Brewhouse
997 E County Line Rd., Greenwood, IN
10% off Total Purchase
Half Price Books
844 US 31 N, Greenwood, IN 46142
10% off Total Purchase

Historic Artcraft Theatre
57 N. Main St., Franklin, IN
Free Small Popcorn
Hoosier Cupboard Candy, Snacks & Ice Cream
370 E. Jefferson St., Franklin, IN
10% Off Total Purchase

Hops and Fire
1259 N State Rd. 135, Greenwood, IN 46142
Free Dessert with Purchase of Entree

Indiana Sky Pics
15% Off Services
Johnny Carino's
920 N. U.S. 31, Greenwood, IN
Free Mini Appetizer w/Entree Purchase
Johnson County Museum of History

135 N Main St., Franklin, IN 46131
20% Off Gift Shop Purchase
Kacey's
89 N. U.S. 31, Whiteland, IN
Free Order of Breadsticks with Pizza Purchase
Lavish Wax & Spa
200 W. Main St., Greenwood, IN
10% Off Services
Madison Street Salvage
350 E Madison St., Franklin, IN 46131
15% Off Total Purchase
Main Street Grille
200 S. Emerson Ave., Greenwood, IN
10% Off Food Purchase (Dine-In Only)
MashCraft Brewing Company
1140 N. State Rd. 135, Greenwood, IN
Free Growler with the Purchase of a Fill
McDonald's®
Franklin I-65 and Trafalgar State Road 252
Buy one get one, Big Mac® or Egg McMuffin®

Monnie's Pet Salon
120 E. Main Cross St., Edinburgh, IN
Free Pet Nail Trim
Mrs. Curl
259 S Meridian St., Greenwood, IN 46143
Buy One (Small Chocolate, Vanilla or Twist Cone), Get One Free

Mutual Savings Bank
All Branches
Enter to win an Uncirculated Set of Five "Quarters of the Fifty States" from the Year 2000.
10 sets will be awarded
The Nook Gallery
102 W. Pearl St., Trafalgar, IN
10% Off Total Purchase

Nora's Knotty Pine Grill
524 E Old Plank Rd., Bargersville, IN 46106
10% Off Cardholder's Order
(for cardholder only, not entire party)
Not Just Popcorn
114 E. Main Cross St., Edinburgh, IN
10% Off Purchase
The Outpost
113 N. State Rd., 135, Trafalgar, IN
10% Off All Boots and Hats
Pam's Parlor, Inc. Hair & Nail Salon
48 E. Harriman Ave., Bargersville, IN
$3 Off Any Service ($18 or More) OR $5 Off Any Service ($40 or More)
Papa Murphy's Pizza
997 E. County Line Rd., Greenwood, IN
$4 Off Any Family Size Pizza
Phil's Big Belly Diner

101 E. Main Cross St., Edinburgh, IN
10% Off Total Bill

Pilsung ATA Martial Arts
1729 S. U.S. 31, Greenwood, IN
10% Discount on Enrollment Package
Pizza King, Greenwood
520 State Road N. 135, Suite S, Greenwood, IN 46142
Free Drink with Purchase of an Entree

Pringle's Barbershop
201 N. Madison Ave., Greenwood, IN
$5 Off Haircut
Scoops and Treasures
300 Tracy Rd., New Whiteland, IN 46184
Buy One Sundae, Get One Free

Snappy Tomato Pizza
12181 N. Executive Dr., Edinburgh, IN
20% Off Any Regular Menu Price Item

South of Chicago (this location only)
2550 S State Road 135, Greenwood, IN 46143
Four free breadsticks with purchase of 10" or large pizza.
Limit one (1) free order of breadsticks per table or takeout order

Stacked Pickle
172 Melody Ave., Greenwood, IN
Free Pickle Appetizer with Purchase
Studio Stuff
43 N. Main St., Franklin, IN
10% Off Purchase

Sweet Olive & Company Boutique
1675 W. Smith Valley Rd., Greenwood & 1061 W. Jefferson St., Franklin, IN
10% Off Storewide (not to be combined with any current sale/promotion)

Sweet Temptations Bakery & Cafe
706 Trafalgar Pointe Way, Trafalgar, IN
10% Off Total Purchase

Suzy's Teahouse & Bakery
25. E Court St., Franklin, IN
Free Iced Tea with Purchase
Tom's Barbershop
338 Market Plaza, Greenwood, IN
$1 off Any Haircut
Toodleydoo Toys
1 W Jefferson St., Franklin, IN 46131
10% Off Any Purchase
(excluding gift cards & special orders)
Trinkets and Threads
251 E. Jefferson St., Franklin, IN
10% Off Entire Purchase
T-Shirt Express
165 E Jefferson St., Franklin, IN 46131
50% Off T-shirt Transfer

U Paint Pottery Studio
3113 W Smith Valley Rd, Suite D, Greenwood, IN 46142
BOGO Studio Fee

Vintage Whimsy
112 W. Jefferson St., Franklin, IN
Free Candle Tart with Any $30 Purchase
Whiteland Orchard
5559 Graham Rd., Whiteland, IN 46184
$1 Off a Bag of Apples
Expires: 9/18/2017
BOGO 50% Off Cider Slushie
9/19/2017-9/30/2017
Wild Birds Unlimited
331 S State Road 135, Suite B, Greenwood, IN 46142
Free 2 lb sample of WBU No-Mess bird seed when you join our mailing list
(1 per household, 1 time only.)

Wild Geese Bookshop
107 S. Water St., Franklin, IN
10% Off Any Purchase (not to be used with another discount)
You Are the Potter
1211 Madison Ave., Greenwood, IN
Paint Two Pieces, Receive One Free Studio of Equal or Lesser Value

Zaxby's
254 Marlin Dr., Greenwood, IN
Free Drink with Purchase of Any Sandwich