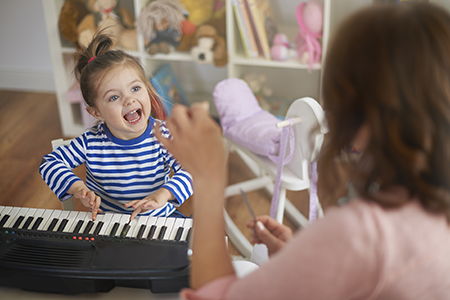 Music tugs out that toe-tappin,' soul-swayin,' get-up-and-dance part of the brain. And that part of the brain plays an important role in early childhood learning. You don't need to be a musician to bring music home; simply sing with your little ones! Singing helps capture your little one's attention and can help tremendously with early language learning. Songs slow down words and break down syllables, which helps little ears pick up and process those words.
Experts need not apply! Belting out childhood favorites is an excellent way to share music with your child. And it's OK if you only know a few tunes -- growing brains love repetition. Believe me, little ones can't get enough of Twinkle-Twinkle Little Star, Wheels on the Bus, Itsy-Bitsy Spider and the ABCs.
Dancing is another wonderfully enriching activity to add into your little one's day. Dancing together is not only a time to bond, but also a time to practice muscle movement and a variety of motor skills. Dancing is an opportunity to connect rhythm and music to movement and coordination, to calm down or get excited and to repeat favorite movements and explore new ones. You can always visit the library during our Music and Movement or Hop and Bop sessions to dance and socialize with littles and grown-ups.
Whether you're dancing, singing or doing your own silly thing, playing music for your child is an easy way to add music to a busy schedule. Break out your favorite CDs, tapes or records. Stream a custom playlist. Catch up on the latest hits together! Or you could check out some of these CD recommendations from your good ol' library.
"Keep it Real!" by Caspar Babypants
"Laurie Berkner's Favorite Classic Kids' Songs" by the Laurie Berkner Band
"Why?" by They Might Be Giants
"Best of Raffi" by Raffi
"Jim Gill Sings the Sneezing Song and Other Contagious Tunes" by Jim Gill
"Night Train 57" by Dan Zanes
You can also check out tons of selections with your library card on Hoopla!