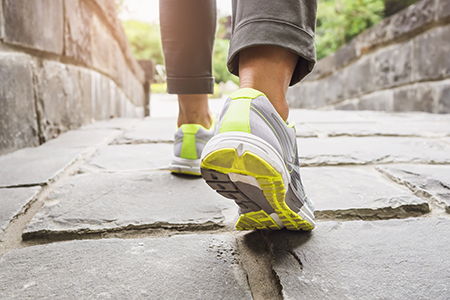 Walking is a nearly perfect form of exercise. It doesn't require any special equipment and can be done just about anywhere, by just about anyone, at just about any time. Done regularly, walking can have tremendous impacts on your health, including:
Reducing your risk of coronary heart disease and stroke

Improving your blood pressure, blood sugar levels and blood lipid profile

Helping maintain your body weight and lowering the risk of obesity

Reducing your risk of osteoporosis, breast and colon cancer, non-insulin dependent (type 2) diabetes

Enhancing your mental well-being

I must confess that I'm not always good at taking regular walks. The many activities of life often threaten to crowd exercise out of my schedule. However, I've recently learned about one very cool way to motivate me to spend some time each week walking. It's called virtual racing.
Virtual races don't have starting guns, water stations or finish lines. They are conducted in cyberspace, and you get to choose where and when you participate in the real world. You can run, jog or walk on the roads in your neighborhood, on trails in the local park, or on the treadmill in the gym or your garage. You get to walk your own race, at your own pace and time it yourself. It's all on the honor system. You don't even have to complete it all at one time. You record your miles and your times as you go. When you finish, most races award you a special medal, T-shirt or other cool swag.
Registration fees range from $10-$50, though free races can often be found. Many races will use part of your registration fee to support charities. Some "live" races have virtual options too. There are tons of these virtual races out there. Many offer themed races set in specific places. See the sites below for some examples or just Google "virtual running."
www.rundisney.com/virtual-running-shorts/
I recently completed my first virtual race from Yes.fit, called "The Road to Hana." It is a 59.5 miles race in Hawaii and it took me about seven weeks from start to finish. I did it exclusively on the elliptical at the gym, but I could have used the daily miles accrued on my pedometer or the time spent walking the dog. The part I love is that as I log my miles, an online map shows where I am on the actual physical trail. They also email me a photo of the view from my current location (see below.) I find this very motivational and it helps get me moving on days when my to-do list is screaming or when my couch looks enticing. I encourage you to give virtual racing a try. It's a lot of fun!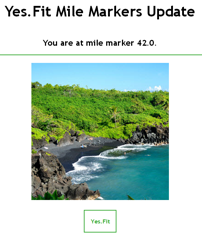 Regardless of where, when or how you walk, I hope you can devote extra time to walking this spring and summer. We've got a lot of great parks and trails in Johnson County, so be sure to take advantage of them. And who knows… next time you see me out walking, I might really be racing on the other side of the globe!
---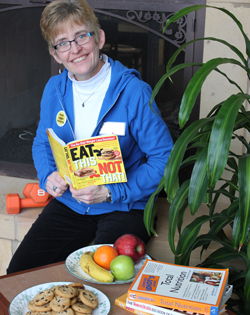 Linda is the White River Branch Manager and leader of our staff wellness team. Staying healthy and keeping fit are keen interests of Linda. Her goal is to enable others to live a healthy lifestyle through good nutrition, physical fitness and a positive outlook, although (shhhhh) she does confess a weakness for potato chips and Cheetos! Join the conversation at linda@jcplin.org.
Sign Up to Receive 'Now You Know