Register for the 13th Annual Cookie Contest on Dec. 2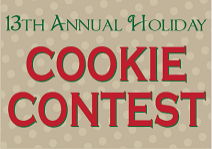 Enjoy Stories with Mrs. Claus During Franklin's Holiday Lighting
Posted by: Johnson County Public Library | Friday, October 20, 2017
Visit Mutual Savings Bank on Saturday, Dec. 2, for stories, crafts, shop the Friends Holiday Book Sale and check out the cookies made for the contest. Bring your cameras and have your photo taken with Mrs. Claus.
Cookie Contest
Saturday, Dec. 2
Mutual Savings Bank
80 E. Jefferson St.
Franklin, IN 46131
All participants must preregister before noon on Friday, Dec. 1. Due to limited space, we cannot accept walk-in entries.

The cookie contest is divided into three age divisions: Children, ages 12 and under; Teens, ages 13 to 17; and adults, ages 18 and older. The winners in each division will be awarded $50!

Division 1: Ages 12 & Under Registration
Division 2: Ages 13-17 Registration
Division 3: Ages 18+ Registration

Cookie Contest Schedule:

3-4:30 p.m. - Cookie entries accepted
3-7 p.m. - Friends of JCPL Holiday Book Sale
4:30-5 p.m. - Storytime with Mrs. Claus
6-7 p.m. - Craft time with Mrs. Claus and all cookies displayed

Mutual Savings Bank, Friends of Johnson County Public Library and Johnson County Public Library sponsor the annual Cookie Contest. Cookies are judged by Purdue Extension Services, Johnson County.