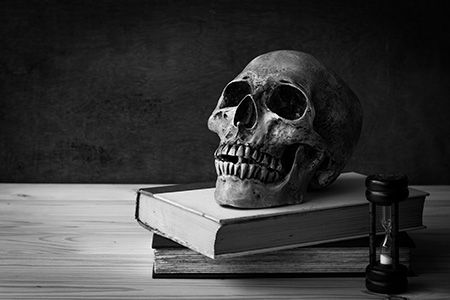 October is here and you know what that means... scary stories! Of course you have your masters of horror: Stephen King, Dean Koontz, Edgar Allen Poe, Joe Hill, Clive Barker, etc. But you know what can really put a stab of fear in your heart? True Crime. Nothing is freakier and more pulse-pounding than reading about horror that has actually happened! Nothing supernatural or made up, these books aren't for the faint at heart and may cause you a few sleeplessness nights.So, in the spirit of All Hallows Eve, I give you the scariest true crime books found in our library:
"My Friend Dahmer" by Derf Backderf
Supremely creepy, wonderfully drawn and haunting, this memoir about going to high school with Jeffery Dahmer the notorious serial killer, will give you the chills. Author and illustrator Derf draws not only from his personal experiences but from his classmates, school, case files and later interviews to piece together the messed up home life and environment that helped turn Dahmer into a monster.
"In Cold Blood" by Truman Capote
Arguably the first true crime book, Capote reconstructs the savage murder of a family in 1959 and the investigation that led to the capture, trial and execution of the killers. Capote paints a chilling portrait of American violence and crime. This one is a classic for a very good reason.
"Columbine" by David Cullen
With over a decade of investigative work and interviews, Cullen pieces together the events leading up to and unfolding during the Columbine Massacre. Chilling, raw, revolting and horrifying; this in-depth look at one of the scariest and most traumatizing school shootings is a must read.
"Helter Skelter" by Vincent Bugliosi
Ever wondered what made Charles Manson tick? "Helter Skelter" provides terrifying insight into the twisted path of horror that Manson and his followers walked. It's dark and messed up and you won't be able to put it down!
"Devil's Knot" by Mara Leveritt
One of the most famous and infuriating cases of wrongful imprisonment. Three misfit teenagers in West Memphis are arrested and charged with the murder and mutilation of three young boys, a crime it's clear to any rational mind they did not commit. Look for the three-part HBO documentary series as well, engrossing.
"The Devil in the White City" by Erik Larson
America's first serial killer, H. H. Holmes, built a hotel into a murder weapon, complete with a gas chamber and crematorium, and targeted young women drawn to the 1893 Chicago World's Fair. Larson takes a look at Holmes, intertwining his tale with that of architect Daniel Burnham, the man who built the titular White City for the World's Fair. Two men, both architects, one building the future, the other, a murder castle. A MURDER CASTLE! Chilling stuff.